Clash of the Titans: 2017 Ram 3500 v. 2017 Ford F-350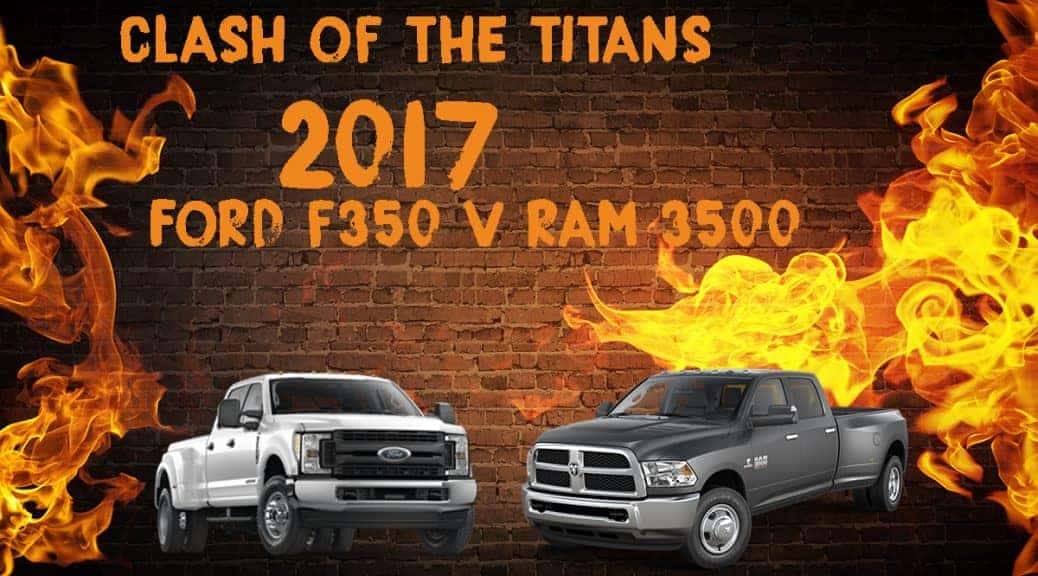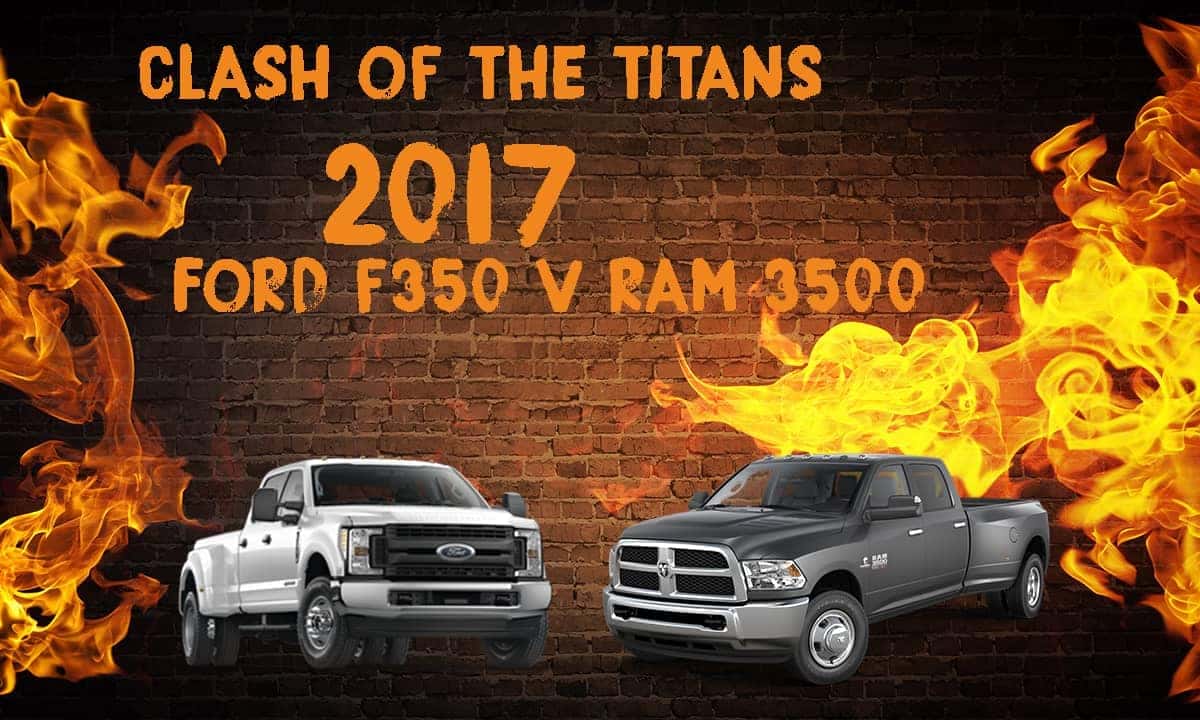 * When the 2017 Ram 3500 and 2017 Ford F-350 go head-to-head its a true clash of the titans. Both brands have a legacy of producing trucks that are built for work and that can perform heavy-duty jobs. In the cut-throat truck market, the difference of 10 horsepower, $10 or 10 pounds in towing capacity is a big deal. So, which is the bigger titan? *
Durability + Design
* Design is one of the most important aspects of a truck and it can't be shrugged off as simply aesthetic. Without a good and durable design, towing capacities and longevity will suffer, especially when it comes to heavy-duty trucks like the Ram 3500 and F-350. *
Ram 3500
* The 2017 Ram 3500 is equipped with a high-strength hydroformed 50 KSI steel frame. In a nutshell, hydroforming is a reliable and cost effective way to produce a high-strength frame that isn't extremely heavy. The 50 KSI frame on the Ram 3500 translates to 50,000 psi. Which is the amount of psi the frame can safely handle, and 50,000 psi is a lot. Psi stands for pounds per square inch and it is the unit used to measure the pressure inside a vehicle's chamber. To top it all off, this frame also incorporates eight crossmember bars and an available rear axle crossmember if a gooseneck or fifth wheel hitch is equipped. *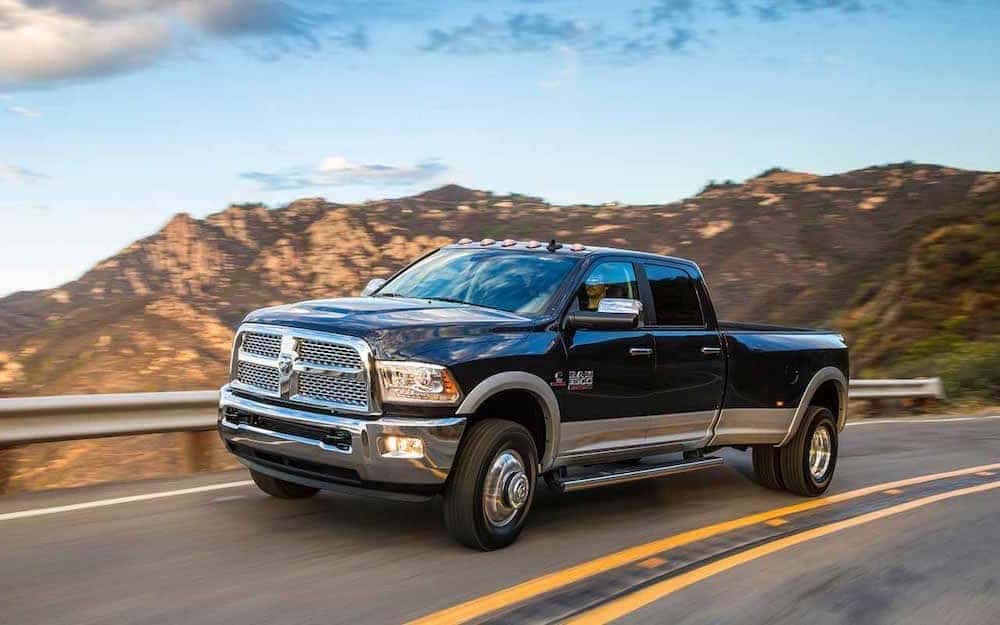 F-350
The Ford F-350's frame is said to be the foundation of the truck's Built Ford Tough capability, and it is designed to minimize flexing and twisting while maximizing the strength and torsional stiffness. But, is Built Ford Tough enough to lock horns with Ram? It appears not. The F-350 is designed from fully boxed front rails, heavy gauge C-channel rails, and additional gussets that provide durability in high-stress areas. The yield strength of this frame only comes in at 36,000 psi.
*_ That means the Ram 3500's hydroformed frame has 14,000 more psi than the F-350, which means the frame on the Ram can take far more punishment than the F-350. _ *
Utility
* If the frame of a truck is the backbone, then the truck bed and cab are the shoulders. Without the truck bed and cab, there would be no way to store materials or workmates. Let's take a look at which truck provides a better cab and bed design. *
Ram 3500
The 2017 Ram 3500 Tradesman is the workhorse of the Ram lineup and it is also available with the best cab and bed setups for the job site. The Ram 3500 is available as a regular cab or crew cab, which means there is plenty of room for you to haul a crew to and from the job site. It's also available in a 6'4" or 8" box length for the bed, which is plenty of storage space for your hauling around materials.
* On top of the 6'4" and 8' bed lengths, Ram also has a RamBox Cargo management system available. This is a class exclusive system that's designed to increase the amount of cargo the Ram 3500 can carry by providing two RamBoxes, a bed extender and divider. The bed extender is a configurable divider that can extend the length of the truck bed by one foot. The RamBoxes are two lockable storage compartments on both sides of the truck bed, giving users even more storage options. *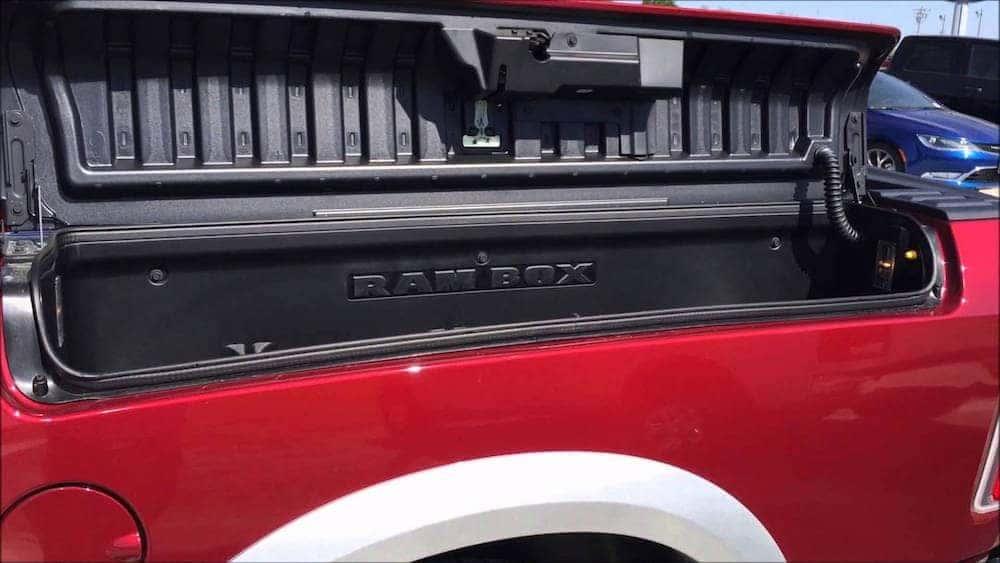 Ford F-350
The F-350 is available in 3 cab styles: crew cab, regular cab, or super cab. The super cab gives it an edge over the Ram 3500 in terms of roominess on the inside, but the truck bed lengths remain the same. Partitioning/dividing the bed of the truck also comes standard on the F-350. It is also worth noting that the F-350 has an aluminum bed, which makes the truck lighter, but it has been found to be much less durable and it is easily dented and/or punctured.
*_ The Ram 3500 definitely has more storage space. Thanks to the two lockable storage compartments included with the RamBox Cargo Management System, users of the Ram 3500 can safely store objects in a convenient way. _ *
Engines and Performance
Leading the way for performance are the engine options and these heavy-weights have some powerful engines to get them down the road.
Ram 3500
The 6.7-liter Cummins Turbo Diesel I6 engine is the pride and joy of the Ram 3500 lineup. This engine puts out 385 horsepower with a massive 900 pound-feet of torque and all of that power allows the Ram 3500 Dually to land best-in-class towing capability, with an available towing capacity of an astounding 31,210 pounds, and a max payload of 6,720 pounds. That towing capacity is enough to put most other trucks to shame on the market.
Ford F-350
The F-350 can also be equipped with a diesel engine, but it's unable to tow as much as the Ram 3500. In the F-350's defense, it does have best-in-class horsepower and torque when it is equipped with the gas engine, but it still doesn't top the Ram 3500 when it comes to towing. The F-350 when equipped with a dual-rear wheel set up and its diesel engine comes in at a towing capacity of 26,500 pounds.
*_ The only way for the Ford to even come close to the Ram 3500 is with the F-450 with a diesel engine and its towing capacity is still less than the towing capacity of the Ram 3500. _ *
Technology
* Many people now list technology features high on their priority list when searching for a new vehicle. This is why both the Ram 3500 and the Ford F-350 come with high-grade technology features for both safety and entertainment. Who do you think wins? *
Ram 3500
When it comes to entertainment, you will never be bored in the Ram 3500. Features like a six-speaker system, media hub with USB and AUX ports, a remote USB port, and radio 3.0 all come standard. Of course, there are always additional options that many choose to add like SiriusXM, a UConnect system with bluetooth technology, GPS navigation, HD radio and Alpine speakers with a subwoofer. Whether you go with standard features, or upgrade them a bit, consumers are not be disappointed with the Ram 3500.
* As previously mentioned, safety technology is a top priority. Advanced multi-stage airbags, electronic stability control, Sentry Key theft deterrent system, and speed control are just some of the many standard safety features found in the Ram 3500. Other offered features that set the Ram apart include a cargo/bed camera, a security alarm, manual start system, and a ParkView rear back-up camera. *
Ford F-350
The F-350 also comes with some good standard and additional features for both safety and entertainment. Some of the F-350s standard entertainment features include an AUX input, AM/FM radio, and a four-speaker system (for regular cab) or a six-speaker system (super and crew Cabs). There are always options like SiriusXM radio and the SYNC system (Ford's version of UConnect).
The standard safety features in the F-350 include a post-crash alert system, front and side airbags. Options like rear inflatable seat belts, a backup camera, and a tailgate camera are available as well.
*_ As you can see, in regards to technology (both entertainment and safety), the Ram 3500 is more equipped and advanced. Looks like Ram takes home this category as well. _ *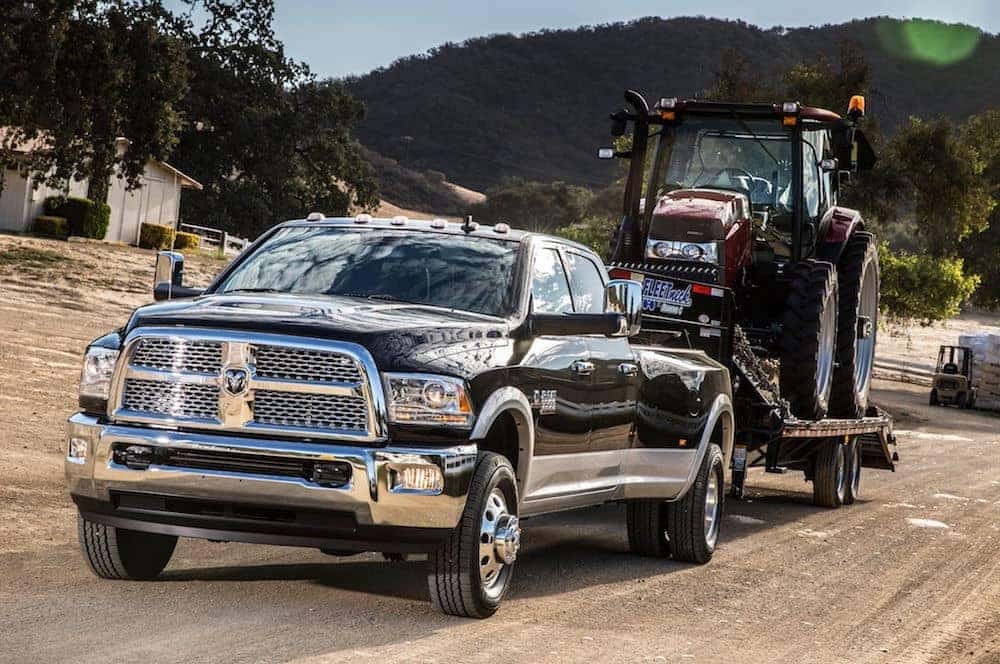 Price
The last and most important category is price. Which truck will give you more bang for your buck? Sure, the Ram 3500 is able to pull a house off it's foundation, but that doesn't mean it's unfairly priced.
_* The Ram 3500 Tradesman starts at $32,245, and goes up in price when equipping the diesel engine to snag that best-in-class towing capacity. However, it's still cheaper than the F-350, which starts at $33,705 and goes up depending on the engine choice. * _
Previous Post New Ram? Here's How to Use the Air Suspension + Electronic Trailer Brake Controller Next Post 5 Driving Apps for Gas, Safety, Traffic and More