Posts Tagged 'mitsubishi model-a'
Wednesday, October 4th, 2017
Mitsubishi really is surprising us lately. Really, they keep coming out with new concepts, automotive technology, and are continuing to expand with their Nissan-Renault partnership/competitor. Back when the last Lancer Evo was auctioned off and the Lancer was discontinued, we thought that was the last we've seen of the old Mitsubishi vehicles. Soon after they announced their centennial anniversary, that news quickly subsided.
A New Evo
Evo, short for "evolution", was the nameplate given to the Lancer Evolution before it was discontinued. Recently, Mitsubishi has been adamant about moving their brand into the future with hybrid SUVs and electric vehicles. Their Mitsubishi Fuso eCanter project, currently taking place in New York City, is proof of that. Now, we may be in for a surprise, because the "Evo" nameplate is coming back, and Mitsubishi will be slapping it on an upcoming electric vehicle (EV) concept.
It took some digging around, but there is one Mitsubishi concept that has yet to see the light since its first debut several years ago – the Mitsubishi eX. With the new technology in the Mitsubishi Eclipse Cross and a multi-year contract with a company that develops human-to-computer interaction software, many signs are pointing to the Mitsubishi eX. Why? Well here's what we know about the concept.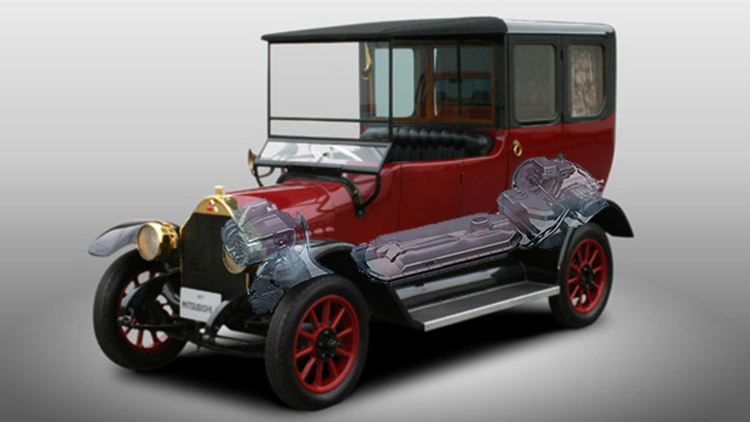 "This is how we do it, this is how we do it!" Man, that song is old, but not as old as the 1917 Mitsubishi Model A. After 100 years of production and becoming a globally-known automotive company, Mitsubishi Motors is going to do something different to celebrate. They're gonna bring back the Mitsubishi Model A, the first automobile they ever produced, and smack it onto the Outlander PHEV platform with all-new tech, but the same old look.
Yeah, you heard right. The Outlander PHEV, having never seen the shores of the states, will be sharing its powertrain with the new Mitsubishi Model A PHEV. We're finally going to get to test out a Mitsubishi PHEV automobile for ourselves. Not only that, but it will be in a completely different vehicle. The Mitsubishi Model A may look a little dated, but that's why Mitsubishi Motors North America has struck a deal with West Coast Customs to redefine the 100 year old automobile.
Monday, February 6th, 2017
This year, Mitsubishi Motors is celebrating their 100-year Anniversary. It's quite the milestone for any company, and it makes one think back on how it all started. Even moreso, where is the motor company heading now? Before thinking about the future, we need to take a step back to where it all began.
1917
Mitsubishi Motors was born in the early 1900s, and their very first automobile was the Mitsubishi Model-A. Not a fancy name, but the vehicle was designed for luxury and important people. Sort of like horse-drawn carriages, one would expect someone important is traveling, so it makes sense. We don't expect many of our readers to remember the world 100 years ago, but if you do, you might remember World War I was being fought.
1962
In 1961 Mitsubishi found their passion … racing. They entered and set a track record at an international motorsports event with their new vehicle, the Mitsubishi 500 Super Deluxe. However, even with international acknowledgement, Mitsubishi was still mostly in Japan in the 60's, and it would be a little while until they came to America. Here in the states, you may remember Martin Luther King Jr, the top Soul Brother that changed a country.
1971
Here's when Mitsubishi started to really make a name for themselves, research electric vehicle technology, and shortly after becoming the first automaker to massively market an electric vehicle. This is also the year they came to America, but to break the ice, their vehicle was bought and sold by Dodge under the veil of the Dodge Colt for more than 20 years. The 1970s were largely a time of change with many people of color and gender fighting for their rights, and protests against the ongoing Vietnam War.