Mitsubishi Motors is Turning the Lancer Into a Crossover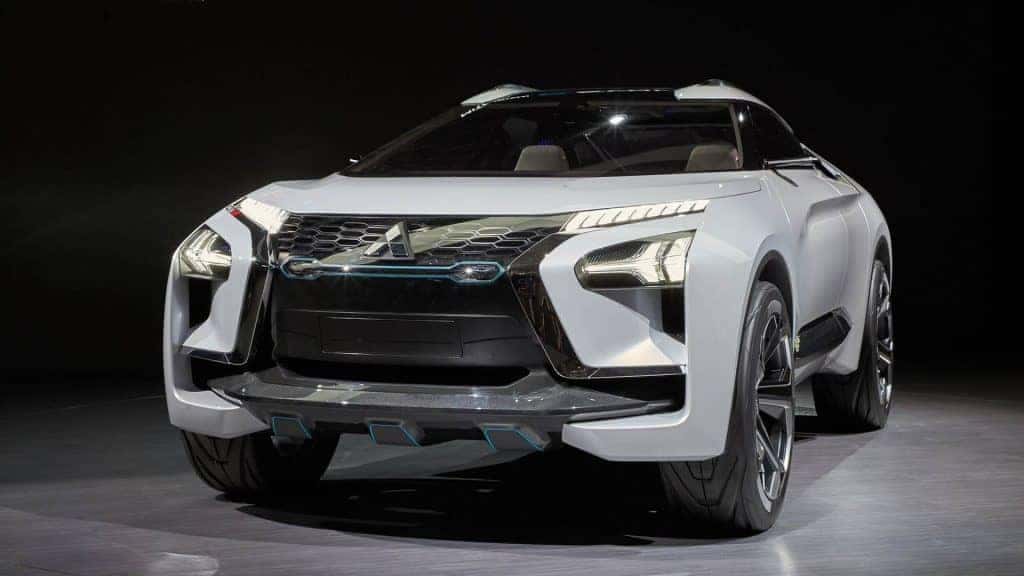 Mitsubishi Motors is doing it again. We're not surprised, and unlike some of the pessimists of the internet, we're not disheartened either. We all know Mitsubishi Motors has turned their attention towards crossovers for their future lineup. This was first evident when they teased the debut of their new crossover, a throwback to the Mitsubishi Eclipse , the Mitsubishi Eclipse Cross. The new Mitsubishi Eclipse Cross debuted at Geneva during the auto show, and there was plenty to like. Not only did this crossover have some of the aesthetic appeal of a sports car, but the technology in the Eclipse Cross was a new frontier for Mitsubishi. The next Mitsubishi vehicle to be transformed is the Mitsubishi Lancer, now a crossover.
Oh, we can hear the cries already. "No, not the record breaking Mitsubishi Lancer !" Oh, boo-hoo. The Mitsubishi Lancer was discontinued , get over it. If you liked it so much, you had your chance to get a Mitsubishi Lancer Limited Edition in 2017 . Mitsubishi is making way for new vehicles and giving old vehicles a new purpose, like the Mitsubihsi e-Evolution wearing the "Evo" nameplate . And that vehicle concept looks pretty amazing so far. Take a look at the picture above and below. That's the style the new Mitsubishi Lancer crossover may take a few cues from.
Going forward, celebrating 100 years of Mitsubishi Motors , the automaker is changing the game and doing the same as many other automakers that don't get the same flack. A lot of automakers are focused on crossovers, seeing as how that's where a large chunk of the auto market is heading. Taking an old favorite and giving it a new look for the current auto market isn't a bad idea. It's genius.
At the moment, Mitsubishi Motors still has two small cars for those of you that like sedans and hatchbacks more than larger cars – we feel you. The Mitsubishi Mirage and Mitsubishi Mirage G4 are still kicking and doing well. And with the current direction Mitsubishi is heading in, we may see variations of these vehicles as a crossover or SUV as well. The automaker has promised eleven new models in conjunction with their Renault-Nissan-Mitsubishi Alliance. The alliance has even discussed cross-brand electric vehicle platforms for future concepts, so we can only guess what else the automaker will come out with next.
Mitsubishi's chief designer, Tsunehiro Kunimoto, has also discussed the new design direction for the automaker as previewed by the e-Evolution concept. Although the new Mitsubishi Lancer may be set for a C-segment (crossover), that doesn't mean it has to be as conventional as the norm. If anything, Kunimoto has discussed plans for the automaker to break the mold and create a new type of hatchback vehicle just to set a new standard.
Not only this, but Mitsubishi has made claims that their new e-Evolution crossover vehicle will actually be more like a performance vehicle. If that stays true, then couldn't a Lancer crossover keep the same performance as its predecessor? After all, Dodge has no problem putting high performance engines into their Dodge Durango SRT , nor does Jeep ® with the Jeep Grand Cherokee Trackhawk . Mitsubishi Motors can do it too, just watch.
The automaker is also heavily looking into hybrids and plug-in hybrids , so be on the lookout for a whole new fleet of green vehicles from Mitsubishi Motors. The Mitsubishi Outlander PHEV was finally added to the North American lineup in 2017, and it's a wonder all on its own. Being a plug-in hybrid electric vehicle (PHEV), the Outlander PHEV is powered by a hybrid system made up of a 2.0-liter DOHC MIVEC engine and two electric motors powered by a rechargeable 12 kWh lithium-ion battery. The internal combustion engine, like most found in Mitsubishi vehicles today, has been optimized with Mitsubishi's MIVEC system, their version of variable valve timing (VVT) technology.
Able to charge up in one of four ways, consumers have the ability to recharge the battery in as little as 25 minutes with a CHAdeMO DC fast charger, (available at many electric charging stations in Miami). There's also the ability to fully recharge the battery in 3.5 hours with a Level 2 240V electric port, or between 8-13 hours with a 120V electrical outlet. A fully charged battery can power the Outlander PHEV for a driving range up to 22 miles on pure electricity. If driving all day, with a full charge and fuel tank, drivers can travel up to 310 miles before needing to gas up or recharge.
With features like these, we can already see a bright future for Mitsubishi green vehicles. Let's give the upcoming Mitsubishi Lancer Crossover a shot. And you can check out the rest of the Mitsubishi Motors lineup at Miami Lakes Automall .
* Photo Source/Copyright: Motor1.com *
Previous Post Renault-Nissan-Mitsubishi Alliance Contract with China Mobility Next Post Going Green Award Winners Available at Miami Lakes Automall