Mitsubishi Holds Onto Outlander PHEV as Flagship Model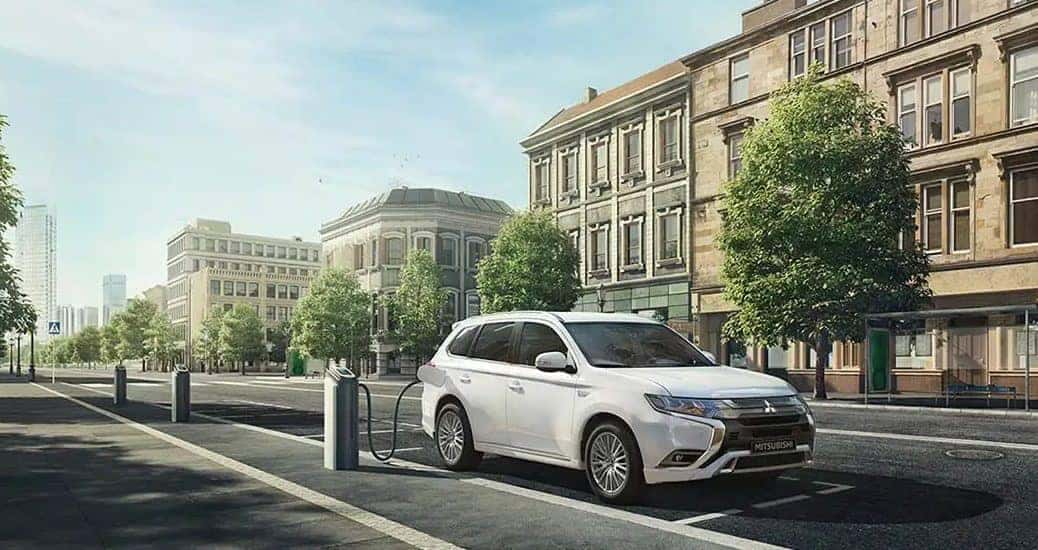 Mitsubishi Motors has been very focused on its current lineup and sprucing up many of its SUV models. We received a next generation model for just about every model, such as the 2022 Mitsubishi Outlander , Outlander Sport, Outlander PHEV, and the 2023 Mitsubishi Eclipse Cross. This focus on the models that also sell the most may have changed some opinions on introducing a new plug-in hybrid electric vehicle (PHEV) as the star of the show. According to Mark Chaffin, Mitsubishi Motors North America (MMNA) president and CEO, the Outlander PHEV is still holding its title.
"Since its launch in March 2022, the gasoline version of the all-new Outlander has been a homerun, setting sales records monthly even in the face of global supply challenges…When sales begin in the U.S., the 2023 Outlander PHEV will take its place as the flagship of the Mitsubishi fleet. It is the most advanced and best-equipped vehicle we have ever sold, and it is the perfect blend of quiet and clean electric motoring with the range and ease of refueling of a gasoline-powered vehicle."
A little surprising, but it does make a lot of sense. We haven't heard anything about the Eclipse Cross PHEV since it was first announced in June 2021 as the new flagship vehicle. A flagship vehicle is the vehicle people most see an ads. For Mitsubishi Motors, it was usually the Outlander before the Outlander PHEV made it stateside. With many automakers introducing all-electric models in the coming years, the automaker wanted to bolster its image with a new PHEV or battery-electric vehicle (BEV). They say, "numbers speak louder than words," and that would mean the Eclipse Cross is the more popular vehicle according to MMNA third-quarter sales – Eclipse Cross 8,361 units sold Year-to-Date (YTD) 2022; Outlander PHEV 1,132 units sold YTD 2022.
The 2023 Mitsubishi Outlander PHEV sports a 2.4-liter MIVEC four-cylinder Atkinson Cycle gasoline engine and a 350-volt, 20kWh lithium-ion battery pack that powers two electric motors. One 114-horsepower motor is on the front axle, one 134-horsepower motor on the rear axle, and the combined torque is 332 lb-ft. With an all-electric range (AER) of 38 miles, and a combined range of 420 miles with a full tank and 100-percent battery power, the Outlander offers its benefits with the range, better budget if choosing to charge up more than gas up, and cleaner emissions. Plus, with a 240v level-2 charger with level 3 DC fast charging, consumers can get up to 80-percent in 38 minutes.
A PHEV will always have an edge on driving range due to the dual-power source. The 2022 Mitsubishi Eclipse Cross has a total driving range of 395 miles, so think of what that will do with an electric motor of its own. Currently powered by a 1.5-liter turbocharged 4-cylinder engine able to generate 152 horsepower and 184 lb-ft of torque, the Eclipse Cross is also the latest new model release from the automaker, despite several new concepts at various auto shows. With sales flying past last year's numbers, it seems like the popularity is shifting towards this sporty SUV. Even if the original Mitsubishi Eclipse sports car ended its reign in 2012, Mitsubishi revived the title for the 2017 Eclipse Cross. Both choices are a plug-in hybrid, so either way, Mitsubishi has a PHEV as the flagship of the automaker. The better choice would be to bite that bullet and introduce the new BEV we've been waiting for since it was announced during the 2020 Renault-Nissan-Mitsubishi mid-term Alliance 2022 digital conference . Until then, the Eclipse Cross will remain an all-gasoline model, but still a good choice if not quite ready to go a little green. Find the new Mitsubishi Eclipse Cross and the Outlander PHEV at Miami Lakes Automall .
Photo Source/Copyright: Mitsubishi Motors
Previous Post Mitsubishi Mini EV Car Wins the 2023 RJC Overseas Next Post A Review of Mitsubishi Motors Success and Awards in 2022