2023 Mitsubishi Ralliart Updates Looks and Capability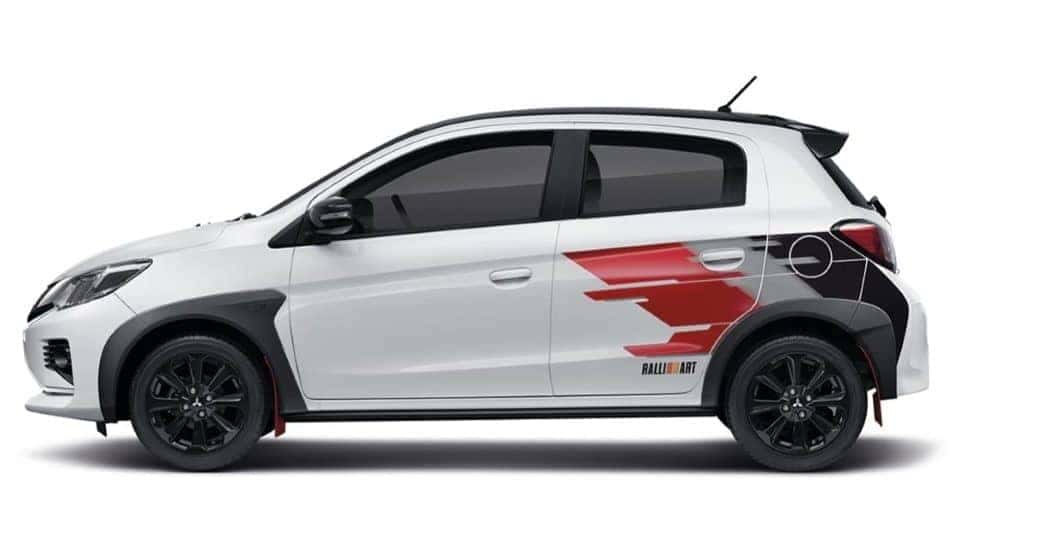 Mitsubishi Motors is going through a bit of an identity crisis with the rebadged Renault Clio being released in the European market, but having a rebadge is nothing new in the auto industry. Heck, the Dodge Colt was a Mitsubishi Motors Mirage in disguise. On the other side of the spectrum, there are some good things going on for Mitsubishi, specifically with its Ralliart group. The same high-performance known for introducing the Evolution nameplate to several models in the automaker's history, Ralliart is returning as an aftermarkets group. To show what the group can do, Mitsubishi will be releasing special limited edition Ralliart models of several models. Details about the 2023 Mitsubishi Mirage Ralliart Edition have surfaced.
This will be a true limited edition, with a limited run for each Ralliart Edition model. That means each Ralliart Edition will instantly become a collector's item, and we know how those can skyrocket in value years down the road. With unique body effects, graphics, and rally-inspired features added to Mitsubishi Ralliart Edition models, every model will also come with a White Diamond paint job and a contrasting black roof, as teased during the press release of the 2023 Mitsubishi Motors lineup. According to sources, changes for the Mitsubishi Mirage Ralliart Edition begin with the mechanics.
Engineered for More
Made to meet the needs of a variety of consumers, the Mitsubishi Mirage Ralliart Edition will be more capable of taking on dirt trails or grave paths that could damage a regular vehicle. Bright red mud flaps are now installed behind each wheel, large enough to keep small stones and pebbles from flicking into the undercarriage, leading to damage and rust. While this change opens the model up to another demographic, Mitsubishi has decided to change the baseline 5-speed manual transmission and replace it with continuously variable transmission (CVT), found on most models, to subtract the need to think about what gear to switch in when trekking the trail.
The change to a CVT will definitely affect fuel economy as well, allowing for consumers to really go the distance. Already heralded as the most fuel-efficient gasoline-powered hatchback on the market, the 2022 Mitsubishi Mirage with CVT offered a fuel economy of 36 mpg in the city and 41 mpg on the highway. Cost-efficient, the starting MSRP was $14,645 (plus destination fee). There is no word on the pricing for the Ralliart Edition, but we'll be keeping an eye on things in the coming months.
Rally-Inspired
Ralliart may not be coming up with any Evolution models any time soon, but that doesn't mean 2023 models can't look like they're made for the track. A classic look for Mitsubishi, the White Diamond and black roof are met with black and red graphics. With a Ralliart nameplate in the rear fascia, the mud flaps stand out, and side graphics what look like flames or wings with a gradient of red, grey, and black. The rear fascia also has a more cunning appearance on the Ralliart edition, adding to its edgy tone.
Speaking of edgy, the model is made to look like a rally car with new black wheel arch trims and additional material around the wheel arches. Going for a more cost-effective option, the arch trims are made of fake carbon fiber and the cladding around the arches are plastic, but this just means they'll be prone to rust. With all the dirt and rubble that can get picked up by the wheels, that's a huge plus. Want to stay informed on when the 2023 Mitsubishi Mirage Ralliart Edition becomes available? It is a limited run, after all. Follow along with us on Miami Lakes Automall social media for more information. And be sure to look for the 2023 Mitsubishi Mirage at Miami Lakes Automall .
Photo Source/Copyright: Mitsubishi Motors
Previous Post Highlights for 2023 Mitsubishi Motors Lineup Next Post Could Ralliart Special Editions Restart Mitsubishi Rally Cars?