The Hyundai Motor Group Expands Partnership with Georgia Tech to Stimulate Future of Mobility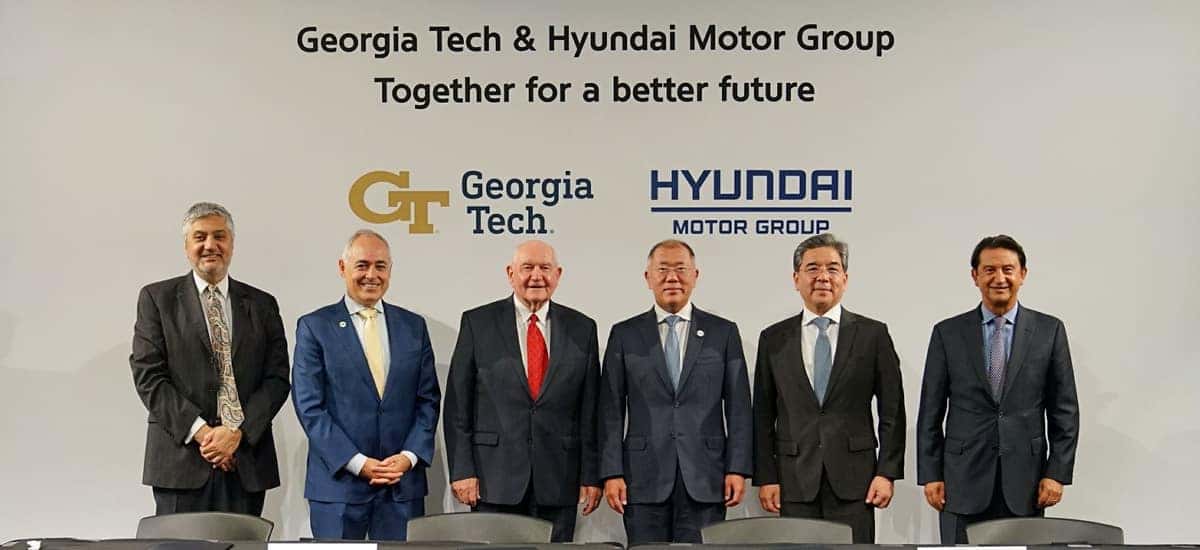 The Hyundai Motor Group (HMG), parent group of the Kia Corp, has been very busy as of late, signing agreements and entering into partnerships with other companies to work towards its "Smart City" vision. HMG showed up during the 2022 the Consumer Electronics Show (CES), and the automotive group shared a concept that revolutionized the way cities and infrastructure would be built today. The latest two partnerships handle green energy and personal mobility. Recently, HMG expanded its relationship with Georgia Tech to collaborate for the future of sustainable mobility.
Three Pillars of the Smart City
Design, green, and mobility. Those are the three pillars that the "Smart City" concept is built on. Some are easier to do than others. For example, the "design" focuses on the city infrastructure and design of a city in contrast to what we have today. The "Smart City" design follows a honeycomb pattern, hexagonal-shaped with two layers – human-surface on the top, function-centered layer underground – with the city split into three sections based on population density. This is built around nature, moving onto the next pillar.
A city can't be considered green unless it has three things – (1) recreational forests and parks with lots of trees, (2) is carbon neutral, and (3) uses clean energy, like green hydrogen. The "Smart City" concept also needs to preserve natural areas where a sustainable green city not only has parks but also a reservoir to provide fresh, clean water for the city folk and the trees. Achieving a balance of carbon neutrality is a strong goal, but carbon zero would be better.
Mobility is the third pillar, and we've seen a lot of this over the last few year. Purpose-built vehicles (PBVs), software-defined vehicles (SDVs), robotaxi services, and even a ride-hail app for the visually-impaired to get around town have all popped up. In a smart city, every person has the right to mobility and freedom.
Elements of Georgia Tech and Hyundai partnership
Back to the new partnership with Georgia Tech, this also has three goals – Research and Innovation, Workforce Development, and Student Engagement. Research and Innovation starts the collaboration between HMG and Georgia Tech to joint research and develop focused on the future of sustainable mobility. This includes battery-electric vehicle batteries, set for production at the HMG Metaplant in Georgia, and a hydrogen economy, with many agreements signed between HMG and other companies to produce green hydrogen energy. HMG will also be investing $12.6 billion in new dedicated electric vehicle and battery manufacturing facilities in Georgia, including the $7.59 billion invested into the Hyundai Motor Group Metaplant America (HMGMA.
Making more jobs available to the worforce is one of the strongest plays in today's economy, with so many people who study for a job that just isn't there anymore. Workforce development is the second part of the agreement between HMG and Georgia Tech to create technical training and leadership development programs to stimulate an interest in STEM degrees among future students who may wonder what future prospects will be available to them. In 2021, the HMG introduced 190,000 jobs to the U.S. economy, the Metaplant will add 8500 more, and a joint venture with SK On in Bartow County, Georgia is planning to employ approximately 3,500 people. With the current UAW strike, a lot of employees may want to look for work in Georgia.
Then, HMG will focus on Student Engagement, starting with simple things like zero emissions hydrogen-powered vehicles on campus, and working towards hands-free and stress free autonomous vehicles. Georgia Tech and Hyundai have the resources to improve mobility on a larger level. Together, they will also create opportunities for student professional development and cooperative work programs, as well as create learning programs for both undergrad and graduate students. Maybe one day, they'll crack air mobility and we can finally have the flying cars the 20th century promised us.
Lots of great stuff is going on with HMG and Kia, and we're looking forward to how it will all impact the auto industry and future model lineups. Kia has revealed three BEVs, and we're hungry for more. If you want to see what Kia is working on next, follow along with us on Miami Lakes Automall social media.
Photo Source/Copyright: Kia Media