Posts Tagged 'teen driver'
Kia Motors has been doing exceptionally well as of late. With sale numbers on the rise and many vehicles being awarded every week, the auto industry may soon have a new set of standards to meet. Recently, Kia Motors was named as the most highly safety rated brand by the Insurance Institute for Highway Safety (IIHS), with eight models in total receiving either a Top Safety Pick or Top Safety Pick + rating. A new mild-hybrid powertrain system is going to be released later into 2018 for the 2018 Kia Sportage, known as EcoDynamics. And now, the Kia Rio has won two awards from Auto Trader during the New Car Awards 2018.
Auto Trader New Car Awards and Kia Rio
During the Auto Trader New Car Awards, a survey of more than 43,000 car owners, all of which help owners rate their car in 16 key areas, collect answers and feedback that is then analyzed to make up a score. The score would tell Auto Trader which model car buyers had found most satisfying to own. For these awards, the new Kia Rio came out on top for a total of two awards.
With a starting MSRP of $13,900* and a price range that barely scratches past $20k, the 2018 Kia Rio is as affordable as it is fun, available with UVO eServices on a 7-inch touchscreen and six speaker sound system. Moreover, for the "Best Value New Car", the Kia Rio was commended for its low running costs and equipment available at affordable prices. The editors themselves commented on why the Kia Rio received the award.
"It's important to stress that 'value' doesn't mean 'cheap', and there are plenty of similar cars out there that cost less than the Rio. What the Rio gives you, though, is a vast amount of ability for a very affordable outlay, and most of the time, that's far more appealing to buyers than a bargain-basement price tag. It's good to drive, practical, nice inside, well equipped and comes with a fantastic warranty to make owning it even better value." – Ivan Aistrop, Auto Trader's Road Test Editor.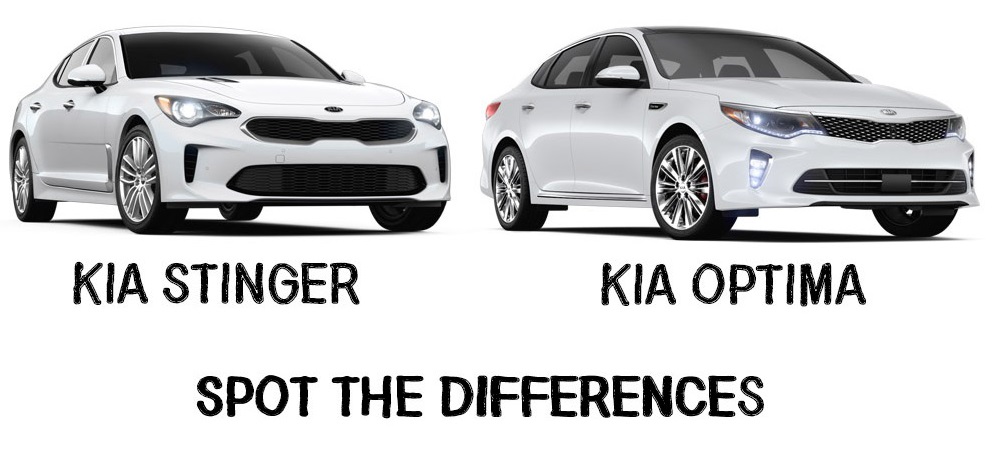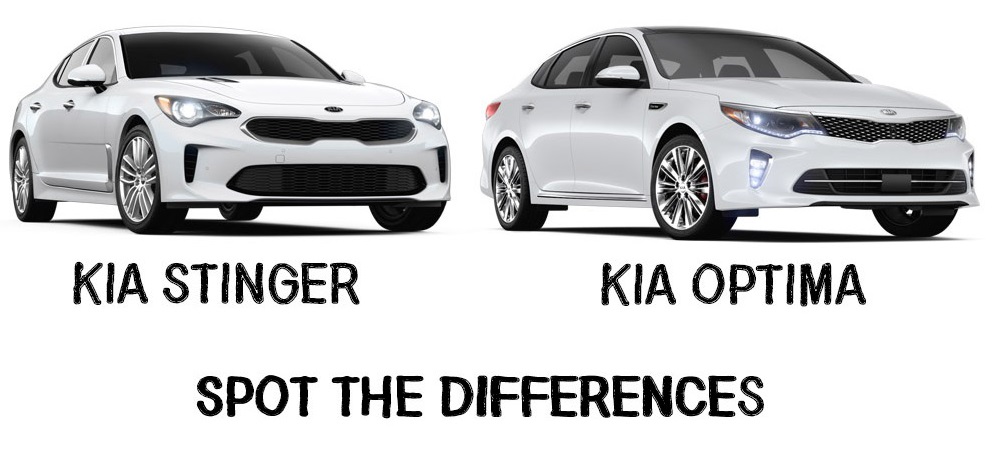 Man, we love the new 2018 Kia Stinger. We love how the Kia Stinger wins so many awards, most recently for best interior by WardsAuto, and we loved throwing a little dirt at all the expensive fast cars that can't match the Kia Stinger GT. The 2018 Kia Stinger GT is also pretty affordable … but what if looking for a Kia vehicle as cool as the Stinger, without the powerful engine and maybe a smaller price tag? Maybe a gift for a new teen driver that isn't crazy about hatchbacks like the Kia Soul? The 2018 Kia Optima is said to be a bit of a luxury sedan, and we're going to show you why with a comparison between the Kia Optima and the Kia Stinger.
Powertrain
Both Kia models have five trims, with the Kia Optima lineup consisting of the LX, S, LX 1.6T, EX, and EX trims, and the Kia Stinger lineup with the 2.0L, Premium, GT, GT1, and GT2 trims. Three engine options are available on the 2018 Kia Optima, with the base starting at $22,600*, powered by a 2.4-liter DOHC inline 4-cylinder engine optimized by dual continuously variable valve timing (CVVT) for better performance and fuel economy. This vehicle can generate 185 horsepower and, paired to a six-speed automatic transmission, has a fuel economy of 25 mpg in the city and 36 mpg on the highway. The Kia Stinger 2.0L starts at $31,900* and is powered by a twin scroll turbocharged 2.0-liter DOHC 4-cylinder engine, also optimized with CVVT. The Stinger 2.0L can generate 255 horsepower, is paired to an eight-speed automatic transmission, and has a fuel economy of 22/29 mpg city/highway if driving on rear-wheel drive – 21/29 mpg city/highway if opting in for all-wheel drive, for another $2,200.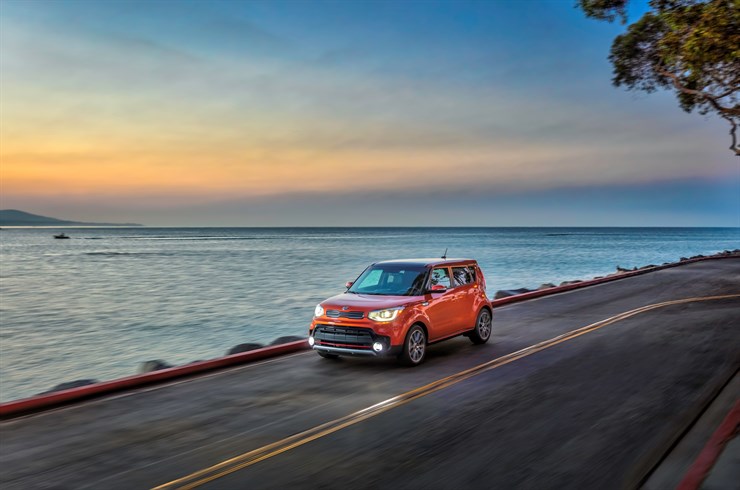 Kia keeps making rounds around success lane, and there is no stopping them in sight. The Kia Soul, a favorite vehicle of college kids, was just named the best budget vehicle in 2017 by Parents magazine and Edmunds. Not a surprise, really. Starting at only $16,100 – it's one of the better budget vehicles out there, and the price isn't the only thing to talk about.
The 2017 Kia Soul was selected for its value, performance, safety, and family-friendly features. This can be attested to its (1) standard 130-horsepower 1.6-liter I4 engine; (2) UVO eServices, which is  Kia's infotainment package; and (3) its many advanced safety features.
This will be the tenth year that Parents magazine and Edmunds have partnered up together to share the Best Budget award, amongst other rewards, and to provide a reliable source for families looking to purchase cars for their new drivers.