Posts Tagged 'sedan'
Wednesday, July 1st, 2020
Yesterday, Tuesday, June 30, 2020, Kia Motors made use of a virtual event to present the upcoming 2021 Kia K5, previously known as the Kia Optima in the North American market. During this event, we got a look at some new specs to look forward to, as well as new features we'll make sure to highlight as we go through the list. Here it is, the all-new 2021 Kia K5!
Choices
Everyone likes having choices, and Kia Motors doesn't skimp on that when it comes to the new 2021 Kia K5. Available in five trims – LX, LXS, GT-Line, EX and GT – the GT has the highest performance of the lineup whereas we believe the GT-Line will come with high performance looks without the specs or engine. That's never a bad idea, some people want a car that looks like a sports car but has no need for speed or the insurance bill that comes with it.
Then comes the engines. There are only two powertrain options, and you can probably guess which trims get which engine. The standard setup is a 1.6-liter T-GDi engine, optimized with Kia's new Continuously Variable Valve Duration (CVVD) technology, gasoline direct engine, and a turbocharger, able to generate 177 horsepower thanks to Kia Motors new "Smartstream" technology. Paired with an eight-speed automatic shifter, it's a great start, but we bet the GT trim can top it. Consumers will find a high-performance 286hp 2.5-liter T-GDi turbocharged gasoline engine under the hood of the 2021 Kia K5 GT, able to accelerate from 0-to-100 kph in around 6.6 seconds. The transmission has also been changed into an "aircraft-type" knob that takes up less space in the cabin, a new design that may pop up in more interior Kia Motors cabins.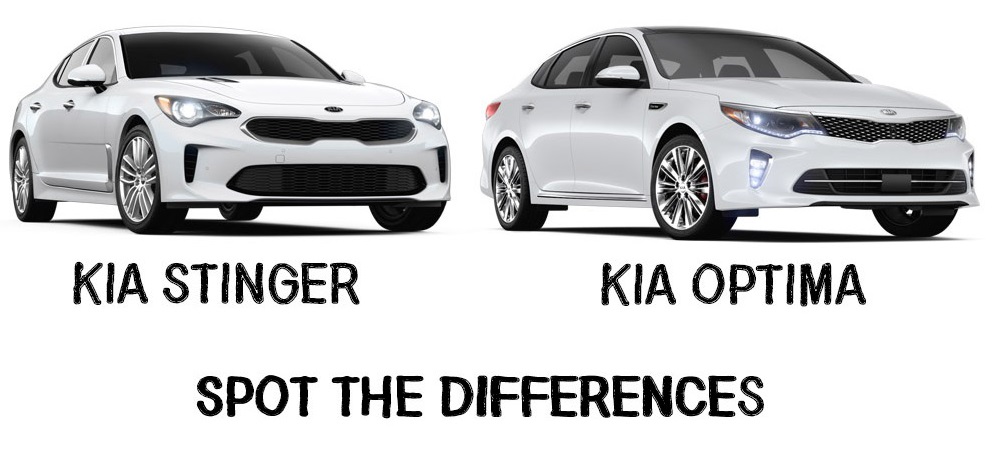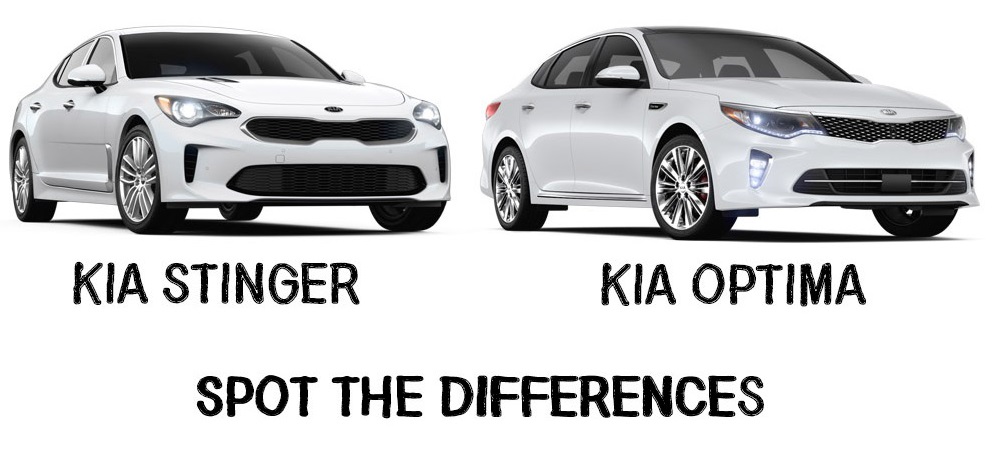 Man, we love the new 2018 Kia Stinger. We love how the Kia Stinger wins so many awards, most recently for best interior by WardsAuto, and we loved throwing a little dirt at all the expensive fast cars that can't match the Kia Stinger GT. The 2018 Kia Stinger GT is also pretty affordable … but what if looking for a Kia vehicle as cool as the Stinger, without the powerful engine and maybe a smaller price tag? Maybe a gift for a new teen driver that isn't crazy about hatchbacks like the Kia Soul? The 2018 Kia Optima is said to be a bit of a luxury sedan, and we're going to show you why with a comparison between the Kia Optima and the Kia Stinger.
Powertrain
Both Kia models have five trims, with the Kia Optima lineup consisting of the LX, S, LX 1.6T, EX, and EX trims, and the Kia Stinger lineup with the 2.0L, Premium, GT, GT1, and GT2 trims. Three engine options are available on the 2018 Kia Optima, with the base starting at $22,600*, powered by a 2.4-liter DOHC inline 4-cylinder engine optimized by dual continuously variable valve timing (CVVT) for better performance and fuel economy. This vehicle can generate 185 horsepower and, paired to a six-speed automatic transmission, has a fuel economy of 25 mpg in the city and 36 mpg on the highway. The Kia Stinger 2.0L starts at $31,900* and is powered by a twin scroll turbocharged 2.0-liter DOHC 4-cylinder engine, also optimized with CVVT. The Stinger 2.0L can generate 255 horsepower, is paired to an eight-speed automatic transmission, and has a fuel economy of 22/29 mpg city/highway if driving on rear-wheel drive – 21/29 mpg city/highway if opting in for all-wheel drive, for another $2,200.