Posts Tagged 'real-time emotion adaptive driving'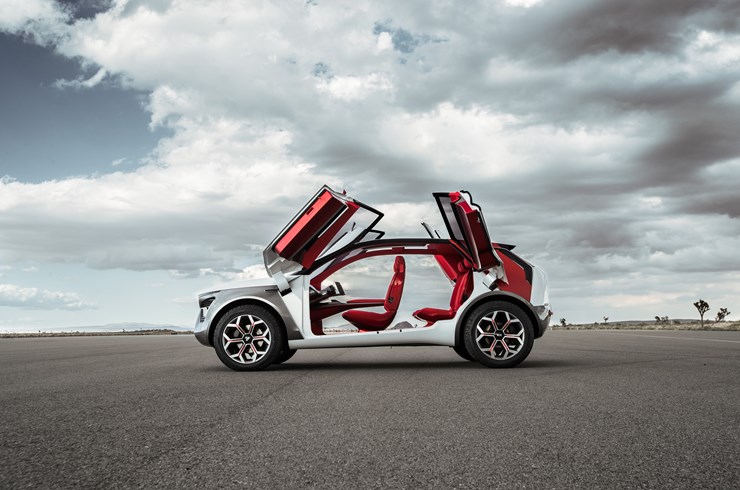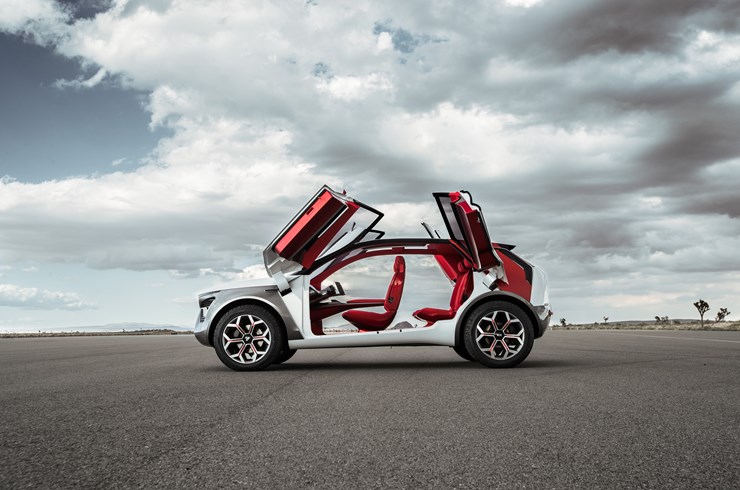 Ladies and Gentlemen, welcome to the future! It's the future of automobiles at the 2019 New York International Auto Show, having just started and running from April 19 to April 28, 2019. Many automakers have been tight-lipped before debuting any concepts this year at NAIAS, but Kia Motors was quick to start making noise a week before, and now we know why. Along with the reveal of their Kia Stinger GTS Limited Edition, Kia Motors has debuted a concept that could change the auto industry forever. Of course, like other autonomous vehicle concepts, that could be a long ways away.
The Kia HabaNiro
Although "Niro" is a part of the name as a play on words, Kia Motors isn't bringing us another rendition of the Kia Niro like they did with the many concepts of the Kia Telluride prior to its release. The Kia Niro EV, also known as the e-Niro in Europe, has already been a success. No, the HabaNiro is its own bread-and-butter design set to be an all-electric Everything Car or ECEV. Use it to commute, as a crossover, get rough like it's an SUV, go on an adventure, or have a state-of-the-art technology workroom. Yes, that last one hinges on an autonomous vehicle, and the HabaNro concept comes with level-five autonomy.
"We wanted this concept to be comfortable navigating city streets, carving turns on a coastal road and off-roading with confidence to remote wilderness adventure…We imagined a car for everyone and nearly everything. Then, when we saw the finished product, we were blown away by the imagination of the HabaNiro's creators and its laboratory of technology and we want it in our driveways." -Tom Kearns, vice president of design for Kia Design Center America (KDCA).
Although the HabaNiro may fall into the compact crossover segment, the design of the vehicle blurs the lines of them all. A four-seat wonder car with butterfly wing doors make for a spectacle, and its  protective metallic grey cladding contrasted by bright "Lava Red" aero panel and roof create a sense of vibrant energy. We swear, we think there's a spy in the auto industry or automotive designs are starting to mesh together because the below image looks a lot like the Mitsubishi e-Evolution concept.
Wednesday, January 9th, 2019
The 2019 Consumer Electronics Show (CES) is booming, and Kia Motors previewed some of their upcoming autonomous technology in the weeks prior. Now that they're on the floor and ready to showcase, the collection is finally complete. Designed for the post-autonomous auto market; read "once the auto market has fully embraced self-driving vehicles and it becomes the norm"; these technologies could popup in semi-autonomous or Level 3 autonomous vehicles easily. Check out everything going on below.
Real-time Emotion Adaptive Driving (R.E.A.D.)
R.E.A.D. is the main highlight of the Kia Motors showcase, and it's easy to see why. This system is the backbone of many of their post-autonomous concepts. Designed to enhance the human mobility experience by optimizing cabin space and allowing the driver to do so on command would really be an upgrade. Part one was developed through a joint research alliance with the Massachusetts Institute of Technology (MIT) Media Lab's Affective Computing group. In this phase, based on evaluations of the driver's emotional state in real-time via artificial intelligence-based bio-signal recognition technology, an onboard artificially intelligent (A.I.) system can then customize the interior environment based on its assessment of mood and create a more enjoyable experience while in the vehicle. One would assume the A.I. also monitors normal driving behaviors and picks up on such when the driver's face is "angry" or "sad" – but that's just our theory.
Monday, January 7th, 2019
The 2019 Consumer Electronics Show is taking place this week, from January 8 to 11, 2019. If not aware, the Consumer Electronics Show (CES) is an annual show at the Las Vegas Convention Center that showcases more than 4,500 exhibiting companies, including: manufacturers, developers and suppliers of consumer technology hardware, content, technology delivery systems, and other industries. Not specialized for the automotive, it's not a guarantee that an automaker name will show, but Kia Motors, part of the Hyundai Motor Group, show up just about every year. Last week we talked about their Real-time Emotion Adaptive Driving (R.E.A.D.), and this week we get a peek at a new Automated Valet Parking System before the doors to the 2019 CES open.
Automated Valet Parking System
Yes, it's just as it sounds. In the coming years, we'll see a lot of interesting technology from the South Korean automakers, Hyundai and Kia Motors. Some of which deals with their plans to have artificial intelligence (A.I.) and autonomous vehicles on the road by 2020. Given concepts like the upcoming new Kia Telluride and their R.E.A.D. system, the use of artificial intelligence in automobiles will be designed for safety and consumer well-being. Hence their showcase at the 2019 "Consumer" Electronics Show.
What else is Hyundai and Kia bringing for the consumer? How about a way to talk to one's car with their smartphone? We discussed the wireless electric vehicle charging system Kia Motors is developing, and in conjunction with that technology, the automaker intends to install them in parking garages. Imagine a whole level with parking spaces that act as charging stations. Drivers don't need to wait for one to open, because with A.I. and autonomous self-driving car technology, their vehicle can find a space and charge up when available, like a cleaning robot looking for its own charging port via radar.