Posts Tagged 'college'
At first, it wasn't clear whether or not the Kia Seltos, the compact SUV from Kia Motors, would have a global release following its debut. Many automakers tend to release vehicles only in their home market (South Korea for Kia) or in international markets with different regulations and standards. First released in India, then Australia, the Kia Seltos quickly became a hit overseas. So much so, the Kia Seltos came to America. The 2020 Kia Seltos has amazing features, and just the other day, Autotrader has recognized Kia Seltos and placed it on it's "10 Best Cars for Recent College Graduates" list. We know with the current state of the world, many graduates are missing out on graduation, a milestone that will never come again. What better way to cheer up a college grad with a new set of wheels once people are out and about?
"Kia's new Seltos SUV has exactly what grads will be looking for in a car that transports them to the next phase of life…Kia's super-long warranty, low price and generous standard features make the Seltos a small SUV that can weather just about any storm. We like that all-wheel drive is standard on nearly every model and that the overall footprint is small, but the interior feels very spacious." – Brian Moody, executive editor for Autotrader
To be placed on Autotrader's "10 Best Cars for Recent College Graduates in 2020" list, the Kia Seltos impressed editors with its combination of elegance and upscale feel while also having a rugged feel to it that gives it a refined style like no other. Well-engineered as a sports utility vehicle, it's not too big, but can handle a variety of lifestyles and adventures. Spacious and offering great tech options, the interior comes with reclining rear seat functionality for storing cargo, available leather-wrapped steering wheel for a little more comfort on long drives, and an available 10.25-inch high-resolution color touchscreen with an available 8-speaker Bose premium sound system.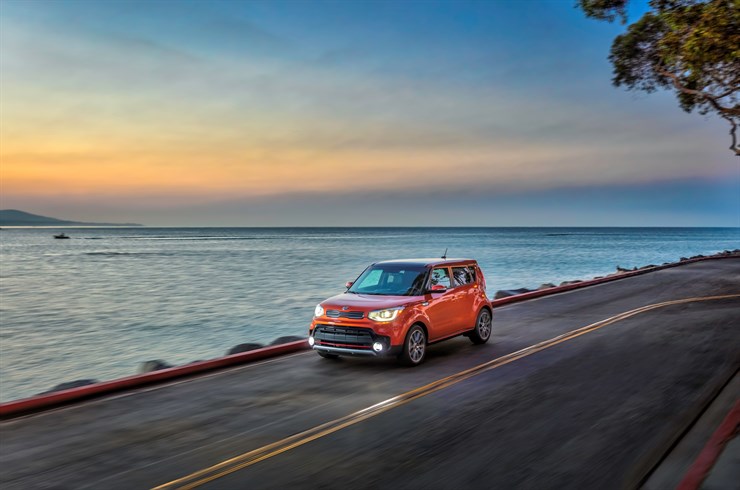 Kia keeps making rounds around success lane, and there is no stopping them in sight. The Kia Soul, a favorite vehicle of college kids, was just named the best budget vehicle in 2017 by Parents magazine and Edmunds. Not a surprise, really. Starting at only $16,100 – it's one of the better budget vehicles out there, and the price isn't the only thing to talk about.
The 2017 Kia Soul was selected for its value, performance, safety, and family-friendly features. This can be attested to its (1) standard 130-horsepower 1.6-liter I4 engine; (2) UVO eServices, which is  Kia's infotainment package; and (3) its many advanced safety features.
This will be the tenth year that Parents magazine and Edmunds have partnered up together to share the Best Budget award, amongst other rewards, and to provide a reliable source for families looking to purchase cars for their new drivers.
Tuesday, August 16th, 2016
It's the middle of August, so schools will be back in session in no time, and unfortunately that means a more hectic commute for a few weeks. Whether you pulled the short straw and have to pack your car with kids for the morning carpool, or if you have a teen going off to college, you need a safe car, so why not Kia?
Kia is awarded with many safety awards every year, including several I.I.H.S. Top Safety Picks, and this year it received the highest rankings in the J.D. Power Initial Quality Study. Oh, and Kia has an industry-leading warranty, so it will be protected by a warranty for many years to come.