Posts Tagged 'Autonomous Emergency Braking'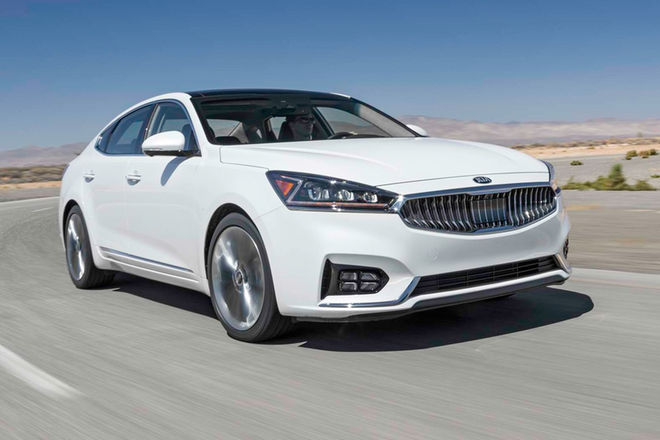 Wow, we're not even in the middle of 2017 and the Kia Cadenza already grabbed an IIHS Top Safety Pick Plus (TPS+) award for the midsize car class. IIHS, the Insurance Institute for Highway Safety, knows a safe car when they see it, and a TPS+ means the 2017 Kia Cadenza is top-of-the-line. With superior ratings in numerous crash tests, it seems Kia just isn't making powerful cars like the 2018 Kia Stinger – they're also making safe vehicles for everyone.
For the 2017 model year, Kia changed things up a bit for the Cadenza. So when the IIHS put it through its five crash tests, the top ratings the Cadenza received may have been unexpected. The five tests consist of the following for crash avoidance and mitigation: small overlap front, moderate overlap front, side, roof strength, and head restraints. That first one is the hardest, and most vehicles have difficulty with it; it replicates what happens when the corner of a car hits a static object at 40 mph.
Thursday, February 2nd, 2017
Kia Motors is all about safety and they have received many awards for their designs and implementations of safety features. Many vehicles have safety features, but some don't go very far past the basics. Today, there's a lot of automatic features that lessen the risks of an auto accident, and Kia Motors probably has the most of them.
Keeping an Eye on Things
These features are like giving the driver eyes on the back of their head, and all around the vehicle for that matter.
The rear parking assist system is a sonar system that detects obstacles when backing up. When an object is detected, it emits an audible warning. Another variation of this detects objects in the front and back, found on the K900, Soul EV, and Sportage.
For a complete view of the drivers surroundings, the touchscreen comes with a Surround View Monitor, or in other words, a bird's eye view of the car that uses four cameras to show obstacles behind the car and in its immediate vicinity. Blind-Spot Detection also helps with this, alerting the driver to vehicles in their blind spot with a visual cue in their exterior mirror. There are more advanced versions of this in the next section.