Posts Tagged 'uconnect 4c'
Photo Credit: Dodge
Drivers that own a modern Dodge Challenger or Dodge Charger recognize they enjoy a powerful muscle car that is unlike most vehicles on the streets today. The uncommon factor has also unfortunately made them a mark for criminals to attempt to capture. Like all luxurious vehicles or sports cars, owners know the Dodge brand is subject to theft and Dodge is addressing those concerns with a free update that will not allow carjackers the chance to drive off with the muscle car. Dodge has maintained its promise to accommodate consumers with not only the most agile production vehicles in multiple segments, but also some of the most secure vehicles as well.
All Owners of 2015-2021 Dodge Muscle Cars, We've Got News For You 
For all owners of 2015 to present-day Dodge Challenger or Charger models, a launch of a unique code to prevent vehicle theft is available. All that is required is showing up with the vehicle to allow Dodge technicians at a Dodge dealership to obtain the software update. This software update will be used via the Uconnect 4C infotainment system accessing a secondary level of vehicle security encryption. This is revealed right from the highest role of the Dodge brand, Tim Kuniskis, as the efforts to make the Dodge brand more secure was a high priority. 
"Today, Dodge is launching a new owner-customized 'double verification' security system. When flashed into the computer of affected 2015 or newer Dodge muscle cars, the protective software will limit the engine output to less than 3 horsepower, foiling fast getaways and joyrides," remarked Tim Kuniskis, Dodge Brand CEO – Stellantis. 
Feel More Secure Owning A Dodge Muscle Car
Once updated, the muscle car will restrict the engine from performing and moving over 675 rpm. This will stop any criminal from moving the vehicle and leaving them idle in the vehicle. This move will also help keep the public as a whole safe as many carjackers take these fast muscle cars on joyrides that injure others, including many times the criminal who stole the vehicle. Now they won't have that chance.
Dodge has come a long way from offering customers a ride that is not only fast looking and impressive, they are also extending the most outstanding security available to keep owners secure, as well as advancing the quality and high-end materials of their Dodge muscle cars. For those who own any of these vehicles, we ask our readers to reach out to us to install the update for free at our service center. 
All of the following can install the update: 2015 Dodge Charger, 2016 Dodge Charger, 2017 Dodge Charger, 2018 Dodge Charger, 2019 Dodge Charger, 2020 Dodge Charger, 2021 Dodge Charger, 2021 Dodge Challenger, 2020 Dodge Challenger, 2019 Dodge Challenger, 2018 Dodge Challenger, 2017 Dodge Challenger, 2016 Dodge Challenger, 2015 Dodge Challenger. Reach out to us to get started on making an online service appointment for the update.
Try Flexing Some Muscle At Miami Lakes Automall
This summer, get ready to make heads turn with our strong muscle line-up of new Dodge Charger and Dodge Challenger models. Come to Miami Lakes Automall to get started where our professional team is here to make your muscle car dream a reality. Our sales staff is ready to help with any leasing, buying or trade-in options. 
Dealing with some vehicle issues? If your vehicle isn't running properly, let us help keep it going. We're here to help with a simple online service reservation and a trip to our service center. We're open every day to assist our customers to find everything they need.
Wednesday, April 18th, 2018
Ever hear of Uconnect? For those unaware, it's the brand name of the infotainment system used by the Fiat Chrysler Automobiles (FCA). That means every Chrysler, Dodge, Jeep, Ram truck, Abarth, Alfa Romeo, Lancia, Maserati, and, of course, Fiat vehicle can come equipped with Uconnect, depending on the trim and options and/or packages chosen by the consumer. If you never heard of an infotainment system before, it's a technological combination of one's stereo system and numerous apps and services that connect the driver to their car and third-party networks. So let's talk about Uconnect and what it does.
What's the Deal with Uconnect?
Depending on the type of Uconnect system a car has, Uconnect can include anything from working the stereo to music and games, as well as traffic reports and even car data. There are multiple versions of Uconnect denoted by a number, but in reality, there are only two versions of Uconnect out now. The previous generation and the next-generation Uconnect 4. Past versions of Uconnect one may see include Uconnect 5.0 and Uconnect 8.4, and it is actually the same version of Uconnect (possibly with additional functions) on a different screen size, i.e. five inches or 8.4 inches.
"Uconnect is the feature-packed navigation, entertainment, and communication system that lets drivers live their lives, connected. The award-winning system takes a bunch of great features and drops them into an elegant and customizable 8.4-inch touchscreen." – driveuconnect.com
Wednesday, November 8th, 2017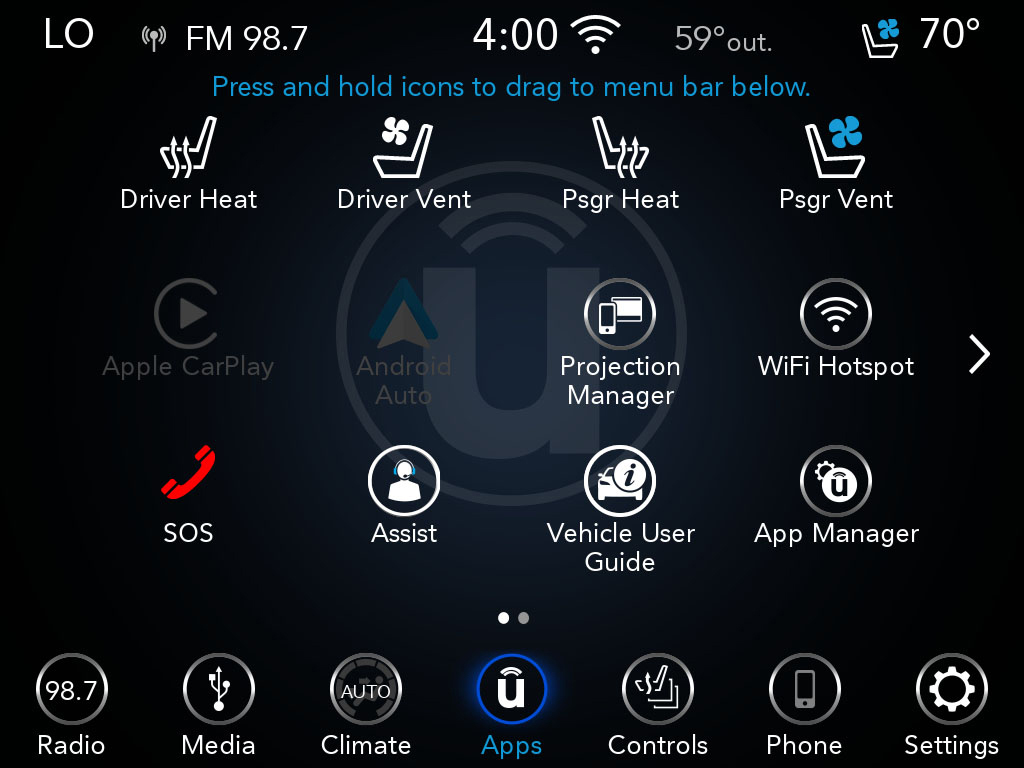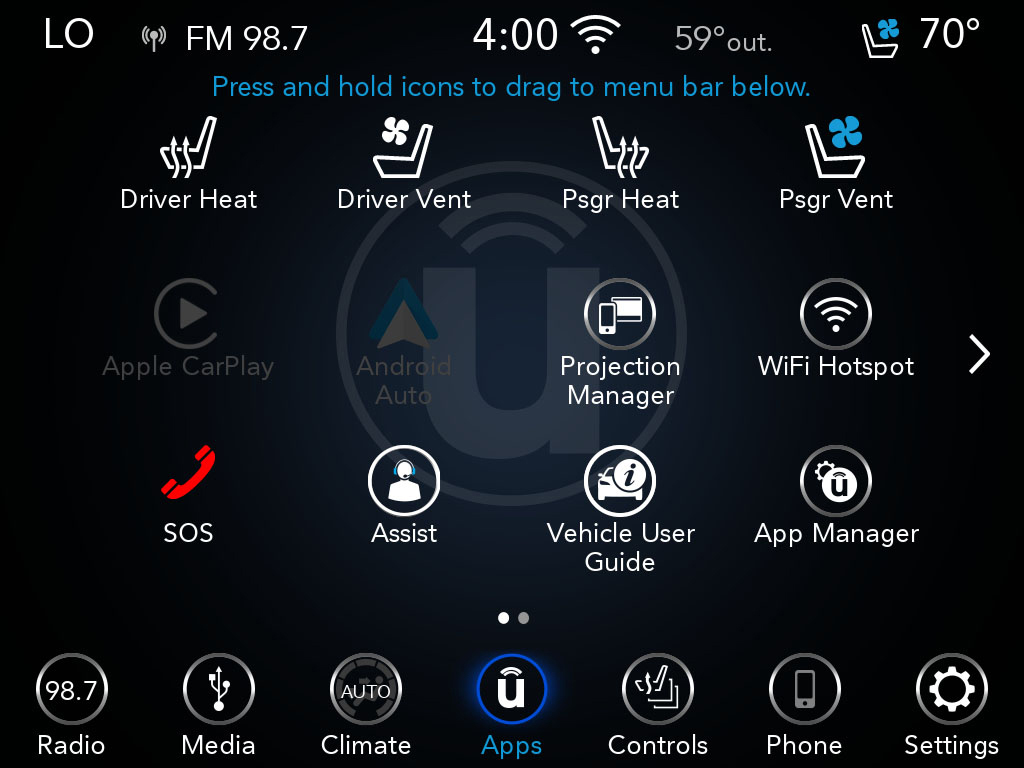 Drivers who own a 2017 Chrysler 300, 2017 Chrysler Pacifica, or 2017 Dodge Challenger or Charger model have probably already noticed that their vehicle features the new Uconnect 8.4 system that was upgraded in 2017. For the 2018 model year, FCA is taking that a step further. Many 2018 model year FCA vehicles will be upgraded with Uconnect 4, which is the next-generation of infotainment systems. Uconnect is the infotainment system used by many FCA vehicles, and today we're going to look at the capabilities of 8.4 and the new generation Uconnect 4.
Uconnect 8.4/NAV
Many FCA models have Uconnect 8.4 or Uconnect 8.4 NAV. Like the basic Uconnect 5.0, Uconnect 8.4 has access to AM/FM radio,  a media hub for mobile device integration to make hands-free calls or stream audio via Bluetooth. However, Uconnect 8.4 comes with HD Radio, SiriusXM Satellite Radio, and recently, Android Auto and Apple CarPlay support on some vehicles. Uconnect 8.4 is accessed via an 8.4-inch touchscreen.
Uconnect 8.4 may also come with a "Do Not Disturb" setting to automatically route incoming calls to voicemail and suppress text messages to help drivers keep their attention on the drive and without being distracted. With voice-command signals, Uconnect 8.4 may also have Siri® Eyes Free, a feature that can respond to natural language commands to make and receive calls, play music, dictate and send text messages and emails, and receive turn-by-turn directions. Users may also customize the layout of Uconnect 8.4 with a drag-and-drop menu bar, similar to hand-gestures on smartphones.