Posts Tagged 'uconnect 4'
Tuesday, April 24th, 2018
Spring is here, Summer is already barreling down on us with that South Florida heat, and those of you who are still in school, classes are coming to an end soon enough. Once school's out for summer, that means it's time for a family vacation, and what better way than to take a long trip for some sight-seeing and making new memories? Even better, why leave home when you can take a piece of it with you by ditching the airfare and taking a road trip to the next vacation spot? With SUVs and Crossovers like the 2018 Dodge Durango, there's plenty of space, power, and entertainment.
Interior Space
Not just for cargo, the 2018 Dodge Durango can seat up to five or seven passengers. Coming standard with a second-row 60/40 split bench seat, smaller families can can fit a lot of cargo in the back of the vehicle and not feel crowded. If looking for a little more comfort, triple-zone automatic a/c control comes standard and leather upholstery options begin with the Dodge Durango GT trim. When it comes to carrying more cargo, that 60/40 split-bench comes in handy when space is only needed for two passengers, because when the second-row seat is folded down there is 84.5 cubic-feet of space for cargo.
Is this a bigger family expedition? By opting in for the third-row seating group (only possible for the SXT and SXT Plus trims), the 2018 Dodge Durango can seat seven people. If the family is still small and you just have kids who require a little more personal space when sitting next to each other for long periods of time, consumers can opt-in for second-row captain chairs instead of a bench seat on all 2018 Dodge Durango trims except the base (SXT). Changing to captain chairs will limit the seating capacity to four in all trims where the option is possible though, so keep that in mind too.
Wednesday, April 18th, 2018
Ever hear of Uconnect? For those unaware, it's the brand name of the infotainment system used by the Fiat Chrysler Automobiles (FCA). That means every Chrysler, Dodge, Jeep, Ram truck, Abarth, Alfa Romeo, Lancia, Maserati, and, of course, Fiat vehicle can come equipped with Uconnect, depending on the trim and options and/or packages chosen by the consumer. If you never heard of an infotainment system before, it's a technological combination of one's stereo system and numerous apps and services that connect the driver to their car and third-party networks. So let's talk about Uconnect and what it does.
What's the Deal with Uconnect?
Depending on the type of Uconnect system a car has, Uconnect can include anything from working the stereo to music and games, as well as traffic reports and even car data. There are multiple versions of Uconnect denoted by a number, but in reality, there are only two versions of Uconnect out now. The previous generation and the next-generation Uconnect 4. Past versions of Uconnect one may see include Uconnect 5.0 and Uconnect 8.4, and it is actually the same version of Uconnect (possibly with additional functions) on a different screen size, i.e. five inches or 8.4 inches.
"Uconnect is the feature-packed navigation, entertainment, and communication system that lets drivers live their lives, connected. The award-winning system takes a bunch of great features and drops them into an elegant and customizable 8.4-inch touchscreen." – driveuconnect.com
Wednesday, November 8th, 2017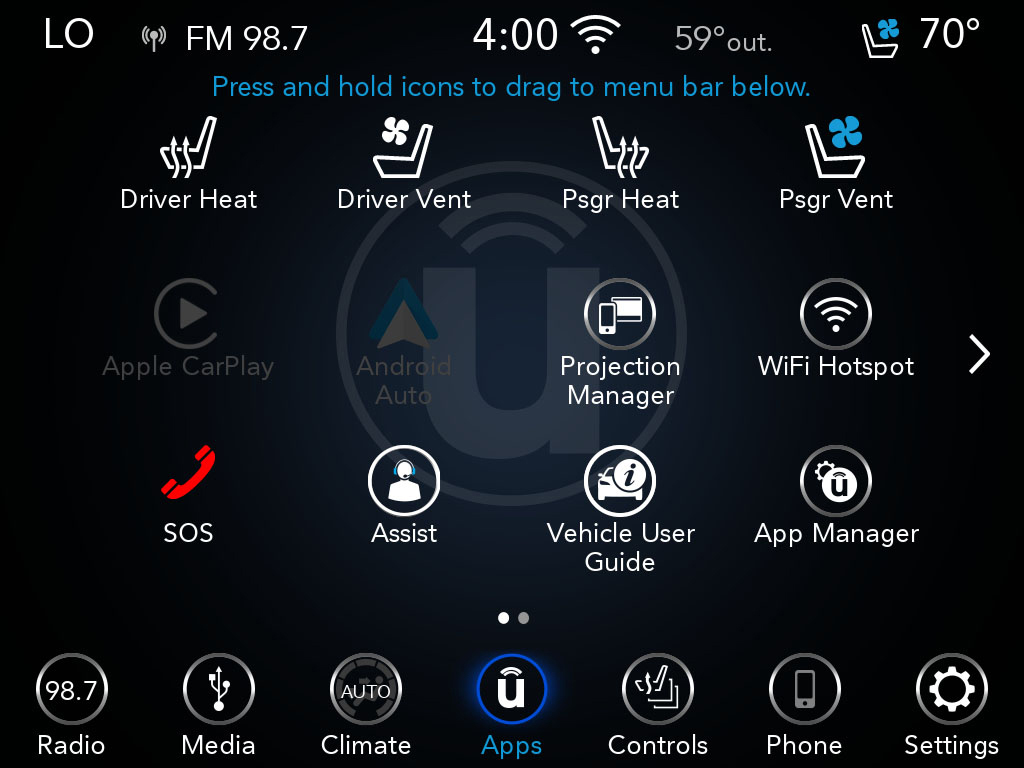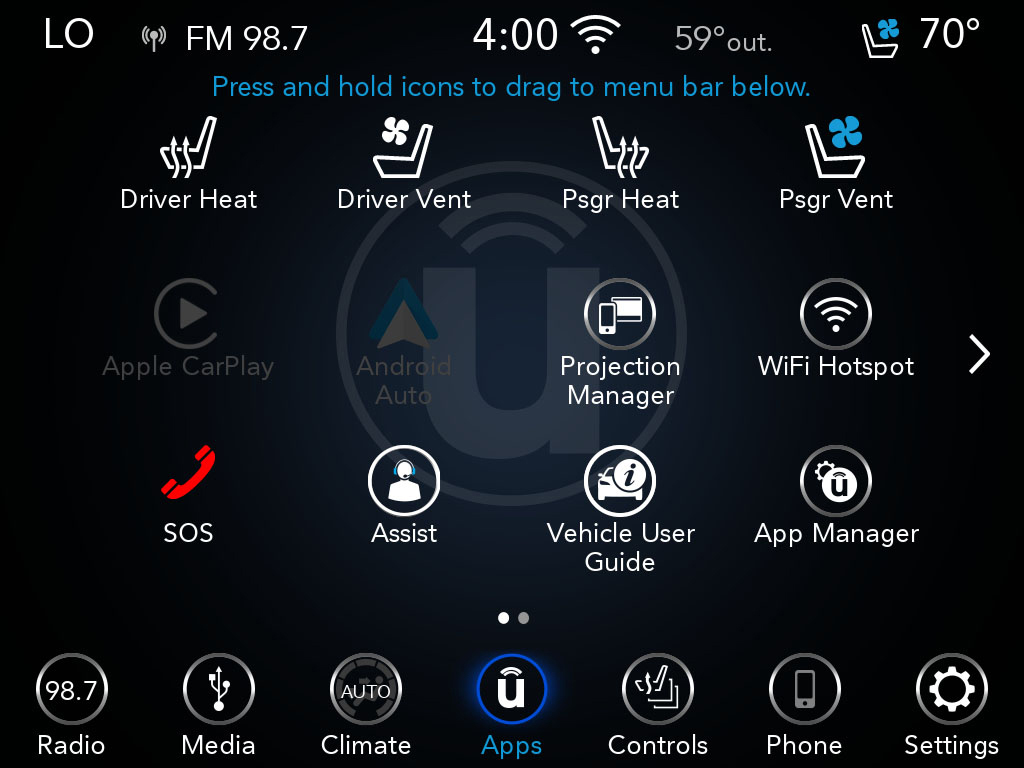 Drivers who own a 2017 Chrysler 300, 2017 Chrysler Pacifica, or 2017 Dodge Challenger or Charger model have probably already noticed that their vehicle features the new Uconnect 8.4 system that was upgraded in 2017. For the 2018 model year, FCA is taking that a step further. Many 2018 model year FCA vehicles will be upgraded with Uconnect 4, which is the next-generation of infotainment systems. Uconnect is the infotainment system used by many FCA vehicles, and today we're going to look at the capabilities of 8.4 and the new generation Uconnect 4.
Uconnect 8.4/NAV
Many FCA models have Uconnect 8.4 or Uconnect 8.4 NAV. Like the basic Uconnect 5.0, Uconnect 8.4 has access to AM/FM radio,  a media hub for mobile device integration to make hands-free calls or stream audio via Bluetooth. However, Uconnect 8.4 comes with HD Radio, SiriusXM Satellite Radio, and recently, Android Auto and Apple CarPlay support on some vehicles. Uconnect 8.4 is accessed via an 8.4-inch touchscreen.
Uconnect 8.4 may also come with a "Do Not Disturb" setting to automatically route incoming calls to voicemail and suppress text messages to help drivers keep their attention on the drive and without being distracted. With voice-command signals, Uconnect 8.4 may also have Siri® Eyes Free, a feature that can respond to natural language commands to make and receive calls, play music, dictate and send text messages and emails, and receive turn-by-turn directions. Users may also customize the layout of Uconnect 8.4 with a drag-and-drop menu bar, similar to hand-gestures on smartphones.