Posts Tagged '2020 Chevy vehicles'
At first glance, the 2021 Chevrolet Suburban and 2021 Chevrolet Tahoe come across as your automobile version of Mary-Kate and Ashely, which in some ways they are, especially when it comes to their platform, gear, trim levels, and much more. So what makes then fraternal? First, let's explore a bit more about what makes them similar. 
Similar Features
The two 2021 Chevy trucks both tag along with the same GM T1 type of structure, have a new multilink rear suspension and have the same powertrain lineup available, the last-mentioned comes with the 5.3L V8 L84 on lower trims and with 6.2L V8 L87 on higher trims. To get a better understanding of how incredible these engines are, the 5.3L boosts a spirted 355 horsepower and 383 lb-ft of torque, while the 6.2L pushes an even more energetic and rocket-launching power of 420 horsepower and 460 lb-ft of torque.
The "twins" also give shoppers the option of getting the turbodiesel 3.0L I6 LM2 Duramax. As a standard, all three engines can be paired up with the General Motors 10-speed automatic transmission for both 2021 trucks, and are offered with RWD and 4WD.
Going past the mechanics, the Suburban and Tahoe offer the exact trim levels, arranged from base to most exclusive: LS, LT, Z71, RST, Premier, and High Country; You'll also find that equipment and options are comparable.
In terms of standard infotainment features, the dynamic duo both come with a 10-inch touchscreen with Apple CarPlay and Andriod Auto, as well as a 6-speaker audio system. Other cool gadgets the 2021 SUVs also share include premium cloth seating, tri-zone automatic climate control, remote engine start, and power front seats.
Different Features
Now let's get into what's fraternal. The best way to describe what makes the 2021 Chevrolet Suburban and 2021 Chevrolet Tahoe different is simply their sizes. The Suburban is pretty much a longer doppelganger of the Tahoe, its wheelbase is longer with 13.2 inches as well as its overall length with 15 inches. 
One makes the right assumption that these models have different interior specs due to their different lengths, however, they do offer pretty much the same quantity of room for passengers.
All of this extra metal will certainly transition into the available cargo room. Behind the first row, the Suburban offers an additional 22-cubic-feet of storage space, an added 20 behind the second row, and 16 behind the third row.
The additional space metal contributes to the difference in price, as the 2021 Chevrolet Suburban adds on an extra $2,700 for its identical trim level to its starting prices similar to the 2021 Tahoe.
Lastly, an infotainment feature that the Suburban keeps for itself is the GM subscription-based On Star connected services, including 4G LTE integration with built-in Wi-Fi.
Miami Lakes Chevrolet
One more similarity that the 2021 Suburban and 2021 Tahoe have in common is that they haven't been released to dealerships yet, however, Miami Lakes Automall currently has a wide selection of both SUVs at 2020 models, and in a variety of different trims.
Those who are interested in any of our new vehicles can simply view our online car inventory, once you find something that feeds your fancy, you can chat virtually with one of our representatives for further assistance.
Photo Source/Copyright: Chevrolet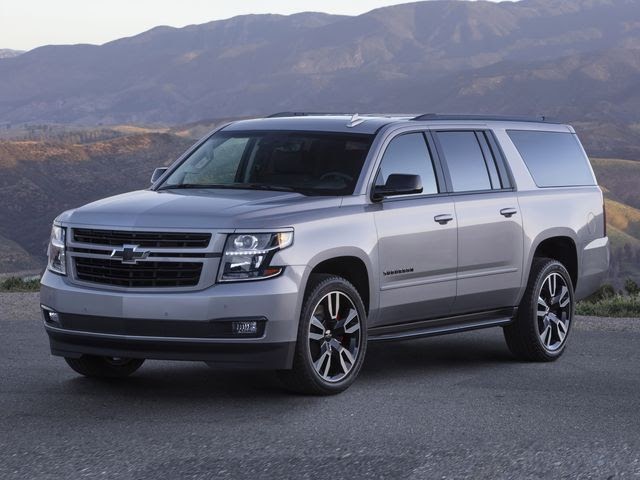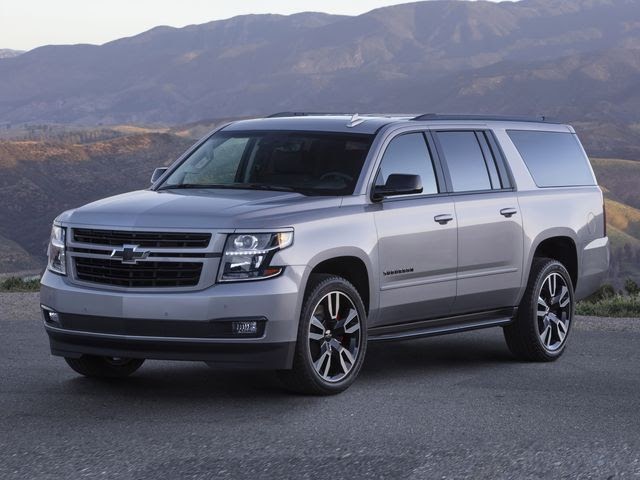 Happy Birthday Chevy Suburban!
It's highly likely that the Chevy Suburban has been around longer then you've been alive. The ol' crooner is often the go-to vehicle for political leaders and federal intelligence services, but even more so with bad-guys in your favorite action films, as it has been featured over 1,200 movies and even was honored by the Hollywood Walk of Fame last year. The Suburban isn't just any vehicle, it has been a game-changer from its beginning to now and its ability to evolve and become more advanced makes it a significant part of American history.
"The name Suburban is so widely recognized that at various times over history it was used by a few vehicle manufacturers," said Leslie Kendall, curator at the Petersen Automotive Museum in Los Angeles. "But the Chevrolet Suburban was the forerunner of the modern SUV, has stood the test of time, becoming a fixture of Americana."
In honor of the Chevy Suburban's 85th birthday, let's see, just how far its come!
A Stroll Down Memory Lane
America's SUV was born in 1935, a year where many U.S citizens were just starting to recover from the Great Depression. While models like Ford V8s, Duesenberg SJs and Chrysler Airflows tried their best to compete, they just couldn't compare to the multi-purposeful Chevy SUV.
"The Suburban Carryall, as it was known in 1935, was designed for versatility," said Christo Datini, manager of the GM Archives. "It combined the comfort and convenience of a passenger car with the practical hauling capability of a light commercial vehicle. It could seat eight or be reconfigured for maximum cargo capacity by removing its rear seats."
Photo Source/Copyright: history garage
The mother of all Chevy Suburbans allowed up to three rows for passengers and was powered up (if you want to call it that) with just 60 horsepower from a 6-cylinder engine. It had a two-door body shell that was developed upon General Motor's crossover chassis, however, what really caught our attention was the Art-Deco-era (apart of the AK Series), in which had a glamourous look it but not so bougie that it looked out of place in the driveway of a farmer.
With each generation, the Suburban has gone through various refinements, powertrains, and computerized systems that one could only dream of when it first made its debut. However, the overall blueprint hasn't changed.
Photo Source/Copyright: Chicago Tribune
A couple of years after World War II, more changes were made like the round chrome-grilled nose of the company's preferred truck line while advancing the torque of the engine in order to make it more adequate for towing. By 1956, there was a complete conversion made from the 1930s style with elements involving wrap-around windshield and body flush with the fenders. Additionally, we finally acquired the V8 engine along with a four-wheel-drive. By the 1960s, it almost unrecognizable with its straight lines and creases on its body, as well as air-conditioning and a rear heater.
Photo Source/Copyright: How Stuff Works
It wasn't until 1967, where the Suburban had some sort of resemblance to the models of present-day, as a third door on the rear passenger side was finally added, making it a hit with families. Within a few more decades, four doors were added as well as increased comfort and emphasis on interior design.
Photo Source/Copyright: The News Wheel
Over the subsequent years style evolved to something sleeker and more cultivated, and was OG when it comes to sharing its exterior style with the Cadillac Escalade.  It also evolved more during the Information Age with advancements in technology like electronic sway control, blind-spot alert, forward collision warning, rear safety alert seat and 4G Wi-Fi. Hands-free liftgates, heated steering wheels, and rear-seat entertainment systems.
Photo Source/Copyright: Car and Driver
"Over the years, the Suburban has become a trusted member of the family," said Mikhael Farah of Chevrolet Communications. "The 2021 Suburban took what customers loved and made it even better," Farah said. "The focus on more efficient use of cargo space, interior passenger comfort, interior refinement and overall driving dynamics was the main focus of the all-new Suburban. For the first time in its history, it has an independent rear suspension, that has allowed for a much more refined vehicle overall."
Additionally, the Suburbans air system gives way to ride-height configuration of up to 4 inches for off-roading. The interior includes impressive features like 10-inch touchscreens, widescreen head-up displays, and 12.6-inch rear monitors. It also includes Adaptive cruise, automatic emergency braking, rear pedestrian alert and side blind zone alert bolster safety. Today's powertrains push 355 horsepower with a 5.3-liter V8 and 420 with a 6.2-liter V8 turbo-diesel, which are both paired but with 10-speed transmissions and push-button shifting.
The 2021 Suburban is set to release this summer, though there's talk that its descendent may be an electric variant. General Motors affirmed that they would carry out 20 new electric vehicles by 2023 as well as a reawakened Hummer with a whopping 1000 horsepower. 
"While the world has changed significantly, the Suburban is just as relevant today as it was in 1935," Farah said. And we couldn't agree more!
Miami Lakes Chevrolet
Wondering what birthday present to buy the Chevy Suburban? How about purchase one at Miami Lakes Automall! We have a plethora of 2020 models in our online inventory, so feel free to look around. In case you find something that feeds your fancy, chat with an online representative for more assistance!
Photo Source/Copyright: Car and Driver