Posts Tagged '2019 Blazer'
Thursday, January 17th, 2019
Photo credit: Chevrolet
Something special is coming soon to the SUV market, the return of the Chevrolet Blazer. Chevy is making waves with the reincarnation of one of their best-selling vehicles. This time the Blazer will be a completely reimagined vehicle. The new vehicle will hit the crossover and SUV market with a fresh take.
The last time the Chevy Blazer was around, it ran from 2001-2008 as a mid-size, body-on-frame SUV. Chevrolet is banking that no one will mind that this new Chevrolet Blazer doesn't resemble the previous Blazer. The new model will make the fourth Chevrolet SUV in their line-up including the small Trax, Equinox, newly announced Blazer, and the largest entry, the Traverse.
New Chevy Blazer Features
The unibody platform is new and is based off the same one used for the GMC Acadia. There will be three trim levels from the base model, to the sporty RS and finally the top-tier Premier trim. The Premier is luxurious and carries the trusted 3.6-Liter V6 Pentastar engine that provides 305 horsepower and 269 lb-ft of torque. The entry powertrain is a 2.5-Liter four-cylinder with 193 horsepower and 188 lb-ft of torque. The nine-speed transmission is equipped for both engines.
The 2019 Chevrolet Blazer will have both front and all-wheel-drive versions. The 4,500-pound towing capacity comes with the larger engine. Drivers will love the sleek look and power, with the Chevrolet Camaro serving as an influence. The Blazer carries a large grille, tall hood, narrow headlights and sculpted sheet metal. The cabin comes with round air vents inside the vehicle, dual-zone climate controls are standard with a panoramic roof and hands-free power liftgate are optional for the Blazer.
Inside The Latest Chevrolet Blazer
The interior also has Chevrolet's newest MyLink system with an infotainment system that contains an 8-inch touchscreen, Bose audio and 4G LTE Wi-Fi hotspot. Apple CarPlay and Android Auto will be available with up to six USB ports for the driver and passengers to enjoy. The latest safety technologies are equipped with adaptive cruise control and rear camera mirror. The all-new 2019 Chevy Blazer is set to be available in late January and goes for $29,995 MSRP (plus destination fee).
The Hit The Road package will add cross bars for the roof rack and black assist steps, plus significant safety items like emergency braking, forward collision alert and lane-keep-assist. The Hit The Road package costs $1,050. Notable exterior options like a body-colored grille bar is set for $395 and an illuminated Chevy bowtie emblem costs $395 and a unique shade of red called Cajun Red Tintcoat for $495. Rear seat infotainment system with a DVD player runs $1,995 and the sport pedal kit costs $165.
Ride the Newest Chevrolet Vehicles All At One Place

Come to drive the latest Chevrolet vehicles, don't wait to visit us at Miami Lakes Automall today. We take pride in offering the newest Chevrolet vehicles and a large pre-owned variety that will make all customers pleased.
Looking for a great experience in gaining a new vehicle? We're happy to help with any buying, leasing or selling. Visit even if you didn't buy from us and allow our friendly service team to help out. Located at 16600 NW 57th Ave in Miami Lakes, Florida. Our Chrysler, Dodge, Jeep, and Ram sales and service departments are open seven days a week to better serve you. Visit Miami Lakes Automall today!
Tuesday, December 4th, 2018
Photo credit: Chevrolet
There are few vehicles that stand out in the crossover SUV segment that can boast as much as the all-new Chevrolet Blazer. The all-new Blazer will carry many amazing features that warrant explanation. Let us share the info and together embrace all the changes Chevrolet has helped the Blazer undergo to present the best crossover experience on the market today. A new style inside the interior with many attractive features are at the heart of the new Blazer. With an attractive exterior, strong powertrain, the choice is up to drivers to decide whether or not the all-new 2019 Chevrolet Blazer is right for them.
Rugged, Yet Sleek
The all-new Chevrolet Blazer is powered by two engines – the standard being a ECOTEC 2.5-Liter four-cylinder engine that nets 193 horsepower, or the available trusted and true 3.6-Liter Pentastar V6 engine that hits 305 horsepower. Both powertrains gain a nine-speed automatic transmission and run with all-wheel-drive. Capable of providing power and strength, the maximum towing capacity is 4,500 pounds for the 3.6-Liter Pentastar equipped Blazer.
Sharp Design Inside and Out
The 2019 Chevy Blazer was designed by Chevrolet to look sharper with a wider grille than previously held thanks to the success of the Camaro design. The design also called for larger lower intakes, narrow headlights, and a change in the language used to describe each trim. The trims are more common and will help with growth in brand recognition. The first trim is the L trim, followed by the Base trim, the RS trim and lastly the Premier trim. The L begins at $28,800 MSRP (plus destination fee).
Traction Mode Selection
Owners will enjoy the all-wheel-drive system that provides access to flip between the 2WD, 4WD, Sport, Off-road and Towing options depending on the requirements needed for any given moment. The driving and traction conditions for owners is something that changes, so why not have a vehicle that can adjust? That's not only sensible, but it is also important. The 2019 Blazer can also completely disengage the rear end to drive only the front wheels (2WD) for better gas mileage. Not a bad feature, if we do say so.
Cargo Management System + New Perks
With a modern look and lots of cargo space, owners will always need more space at certain times. That's where the 2019 Blazer has drivers covered. There's up to 64.2 cubic feet with the second-row seating lowered and folded down. An electronic-locking glove box is a nice feature when users want to switch their Blazer to Valet Mode on the Chevrolet Infotainment 3 menu and use a four-digit code to make the glove box secure. Find out all the remarkable innovation awaiting in the All-New Blazer when it hits stores in early 2019 and discover so much more when you shop at Miami Lakes Automall.
Go For A Test Drive With New Chevrolet Vehicles
For your chance to experience and test drive new Chevrolet vehicles when you come to  Miami Lakes Automall. We welcome you try out the raw strength, new technology and available comfort offered in the latest Chevrolet vehicles. Our professional team is ready to help you with any buying, leasing, selling or trade-in offers.
If you're in need of any servicing or repairs to your current vehicle, we'll happily help you out. Our professional service team is here to help. Stop by today for any of your automotive needs, even if you haven't shopped with us before. We look forward to seeing you today!
Thursday, October 18th, 2018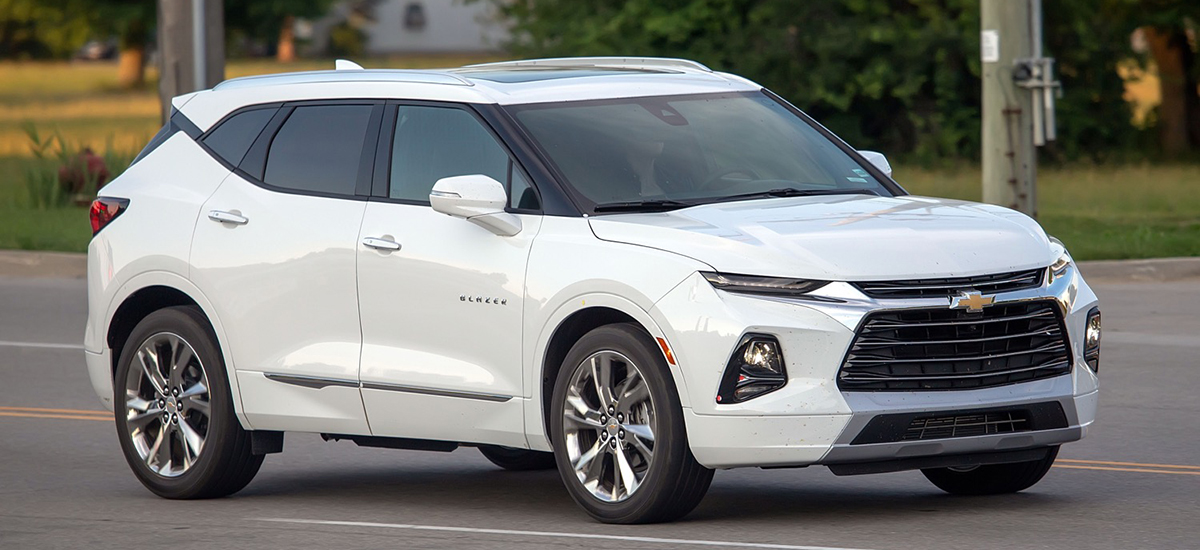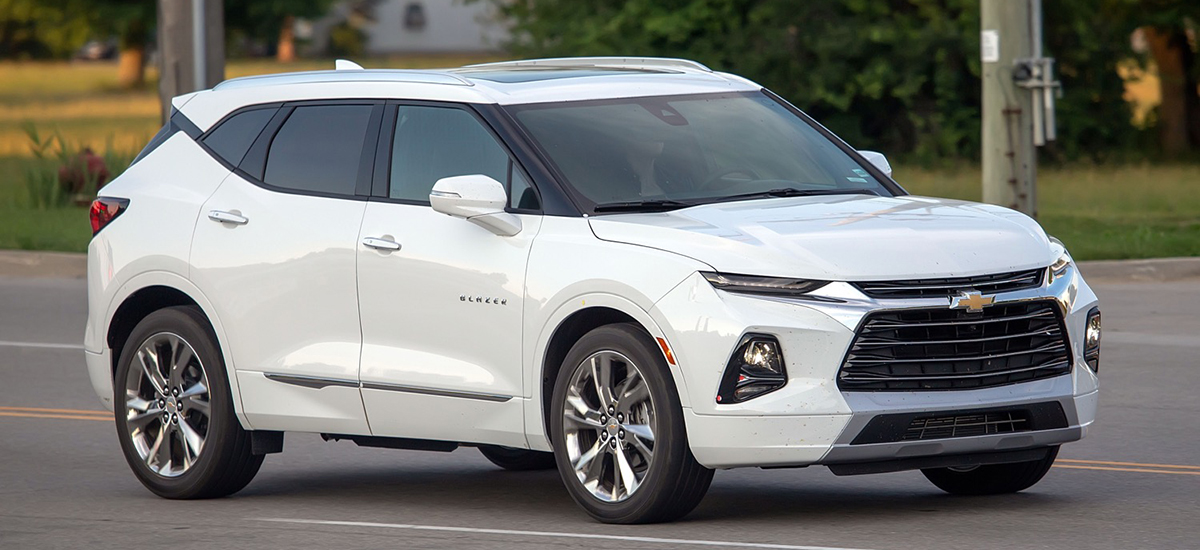 Photo credit: Chevrolet
The arrival of the all-new 2019 Chevrolet Blazer is fast approaching and we're beyond excited to share the news. The latest crossover SUV made by Chevrolet is constructed on a unibody platform and has a design influenced by the Chevrolet Camaro with its large grille, sculpted sheet metal, skinny headlights and raised hood. The latest MyLink system comes with an impressive interior and available safety features, including adaptive cruise control and a rearview camera mirror that help make the latest Blazer a fundamentally sound and enjoyable choice for drivers. General Motors has held the name "Blazer" before, but that vehicle was known as the "K5 Blazer" and ended its production run in 1991 as it became what is today known as the Chevrolet Tahoe. The new Chevrolet Blazer is set to make its debut in fall 2018.
Chevrolet Blazer Basics
The 2019 Chevy Blazer seats five and comes in four trims with the base, L trim, beginning at $29,995 MSRP (plus destination fee). The Blazer (cloth or leather), RS and Premier trims round out the remaining trims and all come standard with front-wheel-drive and LED taillamps. More standard features that makeup a large part of the 2019 Chevrolet Blazer include keyless entry and Apple CarPlay and Android Auto that make using a smartphone while driving a thing of the past. The Chevrolet infotainment system is easy to use and accessible with an 8-inch color touchscreen standard. An HD rear vision camera, six-way adjustable driver's seat, 18-inch wheels and a large electronic locking glove box to store personal belongings are also some of the standard features provided by Chevy.
So, What Can the Chevrolet Blazer Offer?
The 2019 Chevrolet Blazer includes two powertrain options. A 2.5-Liter inline-four engine provides drivers with 193 horsepower and 188 lb-ft of torque is standard for L and Blazer trim. The trusted and award-winning 3.6-Liter Pentastar V6 engine produces 305 horsepower and 269 lb-ft of torque, comes standard with the RS and Premier trim, but is an available option the L and Blazer (cloth/leather) trims. Both are more than suitable to help owners enjoy the drive to anywhere they need to go.
Optional features that help make the 2019 Chevrolet Blazer a more incredible ride for owners include wonderful additional available features like all-wheel drive, a dual-pane power sunroof, a twin-clutch AWD system, heated steering wheel, six USB ports, and heated and ventilated front seats. Not only is the 2019 Blazer packed with ways to keep guests entertained, but the comfortable seating and interior help make the owner just as happy. To experience what the Chevrolet Blazer is all about, rush over to Miami Lakes Automall.
Let Chevrolet Show You The Way
Visit us at Miami Lakes Automall to experience with your own eyes and ears the remarkable lineup of the latest Chevrolet vehicles. We are ready to help you with any purchase for this or any of our crossover vehicles. Come on in to have a different customer experience. Our professional sales staff can assist with buying, leasing, trade-ins or selling. Our friendly team is ready to make your shopping experience wonderful.
Need help with your current vehicle? We want to make sure you're back on the road fast with our experienced servicing staff. Make a service appointment with us and we'll attend to your vehicle. We handle everything from oil changes, exhaust repairs, and tire balances to coolant flushes, vehicle inspections, and tire rotations. We hope to see you soon!